Firefighter Training Held in Albemarle County
Posted:
Updated: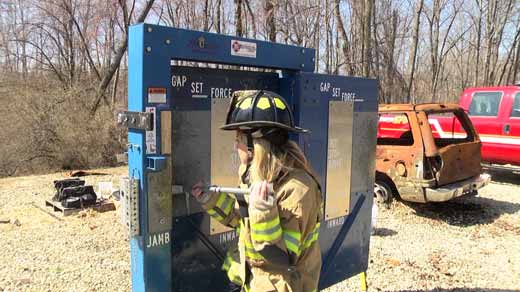 Cat Bordman steps into the shoes of firefighters in training. Bordman uses a halligan bar to open this door.
ALBEMARLE COUNTY, Va. (WVIR) -
More than 200 firefighters from across Virginia and Tennessee are in Albemarle County working to improve their firefighting skills.
They are training Saturday and Sunday with the Seminole Trail Fire Department who started this training course ten years ago. The training program is in memory of a fellow firefighter who was passionate about hands-on learning.
"They come in here already as trained firefighters and they're going out of here as better trained firefighters," states Scott Garber, instructor and Staunton Fire Chief.
The school has 11 different stations, each designed to teach firefighters different skills.
"They're learning forcible entry, metal cutting with certain different types of saws, ventilation on roofs, flat roofs, peaked roofs, some specialized search and rescue techniques, self-survival," says Garber.
Firefighters are practicing skill specific training this weekend. For example, they have been working on how to open residential doors using a halligan bar. Students say this is one of the most practical things they're learning.
Phillip Mendez of the Karns Volunteer Fire Department in Tennessee drove six hours for the training. "I think that's one of the more common tools or resources that we need to know and hone our skills on," says Phillip Mendez, Karns Volunteer Fire Department in Tennessee. Mendez says he looks forward to this weekend every spring.
"It only improves our skills the more we get to do it. The more practice the better," Mendez says.
Instructors hope the learning doesn't stop after the training session ends.
"We want everybody here to know what we know and to go out of here knowing hopefully just as much as we know then they can take it back to their departments and pass it on as well," says Garber.