Deputies Investigate Apparent Murder-Suicide at Fishersville Nursing Home
Posted:
Updated: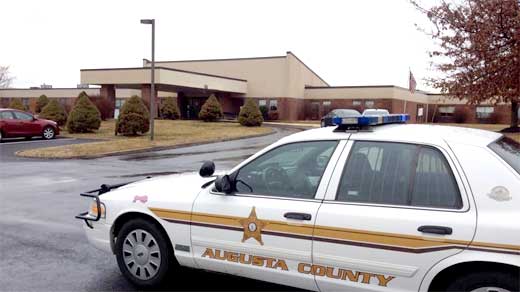 Augusta County Sheriff's Office car outside Shenandoah Nursing & Rehab in Fishersville.
AUGUSTA COUNTY, Va. (WVIR) -
The Augusta County Sheriff's Office is investigating an apparent murder - suicide at a nursing home in Fishersville.
Deputies responded to a 911 call of a shooting at the Shenandoah Nursing and Rehab on Westminister Drive at 11:00 Saturday morning. Deputies arrived at the nursing home to find an 83-year-old woman and 84-year-old man, both deceased.
Police say the man and woman were husband and wife. Both were found in a single room after the man apparently shot the woman and turned the gun on himself.
The Augusta County Sheriff's Office says the incident was contained to the room where the couple was found, and there was not a threat to other patients or staff.
The woman was a patient at the nursing home. At this point investigators haven't determined a motive, but are looking into the mental and physical conditions of both people.
"Because it is a rehabilitation center, may indicate that she was just a temporary patient at the facility. But at this time it's too soon in the investigation to know the full details of the patient's condition prior to today," said Deputy Felicia Glick.
The bodies of the man and the woman were removed from the nursing home around 4:00 p.m.
The sheriff's office says it will continue to investigate this case to confirm that it is indeed a murder-suicide, but at this time that is what all the information points to.
Augusta County Sheriff's Office Press Release:
Fishersville, VA, January 24, 2015– At approximately 11:00 am today, Augusta County Sheriff's Office Deputies and Investigators responded to a 911 at Shenandoah Nursing & Rehab located at 339 Westminister Drive, Fishersville.
Deputies discovered an 83 year old female and an 84 year old male deceased from an apparent murder – suicide. The names of the victims will be released later in the investigation.