Jefferson School African-American Heritage Center Hosts Drawathon
Posted:
Updated: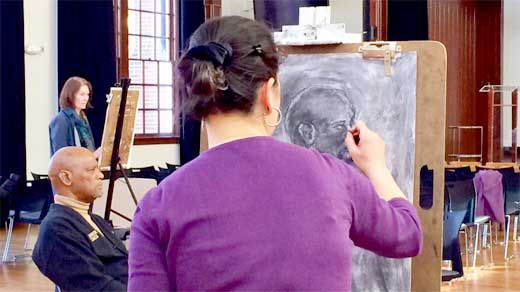 Artists fight racial profiling at Jefferson School African American Heritage Center drawathon
CHARLOTTESVILLE, Va. (WVIR) -
Artists in Charlottesville are using their talents to try to erase black and white stereotypes. The
Jefferson School African-American Heritage Center
hosted its second drawathon Saturday.
Twenty African American models, all men, posed for artists and photographers. Artists sketched all day Saturday in an effort to raise awareness of the city's African-American community on this weekend before Martin Luther King Day.
The goal is to fight racial profiling. The center hopes using art will help breakdown cultural stereotypes.
"If you were going to ask me what my great big Machiavellian plan is, is that we begin to see these faces showing up in the arts in Charlottesville," said Andrea Douglas of the Jefferson School African-American Heritage Center.

The heritage center hopes this 'drawathon' enables artists to see models for their individual character, not for the color of their skin.

"The idea that you make a mark that defines and describes something or someone seemed to tie in with this notion of seeing and perceptions and the way one engages in the world around them," Douglas stated.

Artist Tom Tartaglino says he sees the drawing marathon as a way of changing stereotypes. "What I'm trying to do is depict another individual, not another black person or white person, but another individual for who they are," he stated.

He says even if you're not an artist, people connect with art in a way that helps change stereotypes. "It breaks down barriers as far as who we are and who African-Americans are."

After the models posed for the artists, they sat down for an interview with the center's director to share their personal thoughts on being looked at in different contexts. "This is an opportunity for them to take a step out of the conversations, the bigger conversations and that's what we really wanted to do - bring it all in," Douglas said.

The interviews will be used in an exhibit on April 9 at the center.

If you want to catch the last of the sketching, the drawathon is going on until eight o'clock tonight at the Jefferson School Heritage Center.