Friends of Nelson Hold Pipeline Meeting
Posted:
Updated: Jan 25, 2015 04:38 PM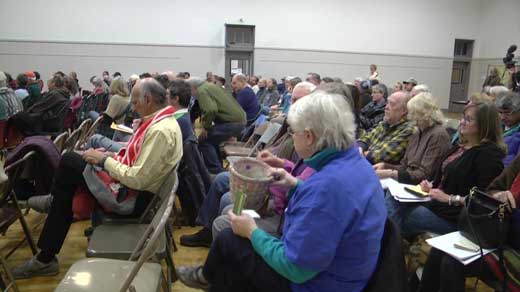 Friends of Nelson meeting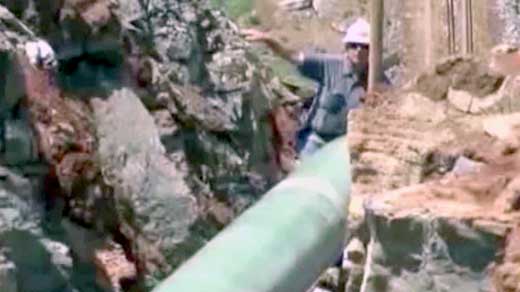 File Photo: Natural Gas Pipeline
NELSON COUNTY, Va. (WVIR) -
Hundreds of people packed into a community center in Nelson County Sunday to learn the latest developments in the fight against a proposed natural gas pipeline. They promise to turn out in droves at an open house with Dominion Resources and federal regulators on Wednesday.
The anti-pipeline group Friends of Nelson hosted a community meeting at the Rockfish Valley Community Center Sunday to give people the information they need going into Wednesday's public meeting. They also announced their support for landowners who received notice last month that they're being sued by Dominion.
Cheryl Klueh is one of 20 landowners in Nelson County, and 27 in Augusta, being sued by Dominion for not allowing the company to survey on their land for a proposed natural gas pipeline route."We're being sued by Dominion, by the Atlantic Coast pipeline, and we've just hired a lawyer and we're going to go to court," she said.
She has a lot of questions going into Wednesday's open house with Dominion. "Why won't they consider an alternative route? We really don't want a pipeline through the best, the most beautiful part, well maybe I consider the most beautiful part of Nelson County, down 151 which is a big tourism area for us."
Friends of Nelson president Joanna Salidas spoke to the crowd, asking for their support heading into the open house. She says this will be the first time people living in the county will get to speak face-to-face with representatives from the Federal Energy Regulatory Commission (FERC).
"We want people to speak to the FERC representative or representatives that will be present at the open house. We want them to let the representative know how they will be negatively affected by this pipeline," she stated.
Salidas is urging landowners who are facing Dominion's lawsuits to stay strong in their opposition. "People have not done anything wrong by refusing to survey. It's not the landowner's responsibility to allow trespassers on their property, it's Dominion's responsibility to prove that they have the right to trespass against a landowner's permission."
Klueh says she's not giving up. "It's not scary. We will do everything that we can to prevent the pipeline going through Nelson County, and if we have to go to court, then so be it."
Friends of Nelson representatives met with FERC last week in Washington and presented them with information about how they believe the 42 inch wide pipeline would damage their county.
The open house is scheduled for Wednesday night at 5 p.m. at Nelson County High School.