UVA Adopts New Fraternal Organization Agreement
Posted:
Updated: Jan 06, 2015 04:51 PM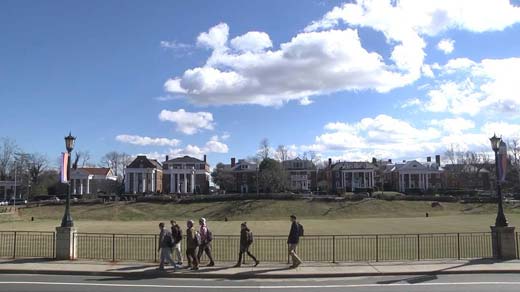 Frat Row
CHARLOTTESVILLE, Va. (WVIR) -
University of Virginia president Teresa Sullivan is reinstating fraternities and allowing social activities immediately.
Sullivan had suspended Greek life following the Rolling Stone magazine article. Many details of the alleged victim's account of a gang rape at a frat party have since been discredited.
Fraternities and sororities can continue at UVA as long as they sign new agreements with the university by January 16.
The agreements require new safety and security measures at social functions.
---
Press release from the University of Virginia
CHARLOTTESVILLE, Va., Jan. 6, 2015 — University of Virginia President Teresa A. Sullivan authorized today new addenda to the University's Fraternal Organization Agreement that were submitted by the four student-led Greek leadership councils. The new addenda outline specific practices that each fraternity and sorority will put in place to enhance the safety of their members and guests.

Sullivan also announced the immediate reinstatement of all social activities, with the stipulation that the FOA addenda must be signed by the president or designee from each fraternity and sorority by Jan. 16. Sullivan also said the new safety measures and the efficacy of their implementation would be evaluated during the course of the semester.

"I believe the new safety measures recommended by the student leaders in the Greek community will help provide a safer environment for their members and guests," Sullivan said. "I would like to express my sincere appreciation to our student leaders who have worked so diligently in the past several weeks to bring forth substantive recommendations and improvements consistent with the ideals of our community of trust."

The Inter-Fraternity Council voluntarily suspended all social activities during the weekend of Nov. 21. Sullivan subsequently decided to suspend social activities at all fraternities and sororities until Jan. 9, indicating such a "pause" would allow the Greek leadership and the University to work collaboratively on new fraternal agreements that would focus on improvements in safety practices. The suspension only pertained to social activities, not to philanthropic or other work.

The Greek councils subsequently embarked upon a process of discussion and engagement with a variety of stakeholders, including members of the Greek community, alumni, Greek national organizations and University officials. Each council submitted a draft addendum to the FOA, which Sullivan reviewed and approved.

"The Inter-Sorority Council's safety recommendations represent what we believe to be the best ways to better ensure the well-being of our fellow members," Inter-Sorority Council President Julia Pedrick said. "We appreciate the open dialogue with President Sullivan and other University officials that enabled the Greek councils time to develop and discuss our own ideas regarding how best to promote education and a safe environment."

"Student fraternity members, fraternity chapter presidents, the IFC Governing Board, a multitude of student groups at UVa including One in Four and the other three Greek councils, the Fraternity Alumni Council, scores of individual alumni and many more have worked around the clock for the past month and half to develop these improvements to our system," IFC President Tommy Reid said. "The IFC is excited for the spring semester and looks forward to continuing to lead the advancement of student safety at the University."

Student Council, in collaboration with student leaders, will also soon begin to review the agreement between the University and other student organizations, which number more than 700.

The new safety practices outlined in the addenda complement other important safety and education initiatives at the University that have been under way for several months.

Later this month, students will see a new police substation serving the Corner area, and increased patrols. Also planned are enhancements to on-Grounds lighting and improvements to the University's camera system.

Sullivan also recently appointed the Ad Hoc Group on University Climate and Culture and charged the panel with exploring policies, practices and organizational structure, as well as the resources necessary to support the ultimate goal of providing an outstanding education while ensuring the safety and well-being of students. Some early recommendations already are in place or in motion, including the hiring of additional counseling and trauma response personnel in the Maxine Platzer Lynn Women's Center and in UVa.'s Counseling and Psychological Services.

The Inter-Fraternity Council created an addendum that outlines specific safety practices required of each member chapter. This document must be signed by the chapter presidents in order to maintain relationship with the University.

The Inter-Sorority Council, Multicultural Greek Council and National Pan-Hellenic Council created a joint FOA addendum that, among other provisions, includes reference to required council-specific safety guidelines codified in separate documents unique to each council.

In addition to the two FOA addenda, the ISC, NPHC and MGC also developed additional safety practices that are unique to their respective membership.

The new addenda may be found online here.

The University requires each sorority and fraternity to execute an FOA in order to receive the benefits of reserving space in University buildings, participating in intramural sports and similar opportunities. The FOA also requires that each fraternal organization complete important educational programs related to topics such as hazing, sexual assault prevention and active bystander intervention, non-discrimination, and alcohol and drug abuse, among others.

Students will begin to return to Grounds later this week, with the start of spring semester beginning Monday. Formal recruitment for new members by many fraternities and sororities will begin by the end of this week.
Sign Up for Email Alerts

Sign up to receive news, weather, and breaking news emails from the NBC29 newsroom in your inbox daily.

* denotes required fields






Thank you for signing up! You will receive a confirmation email shortly.