Friends of Nelson to Raise Money for Pipeline Impact Study
Posted:
Updated: Jan 10, 2015 05:55 PM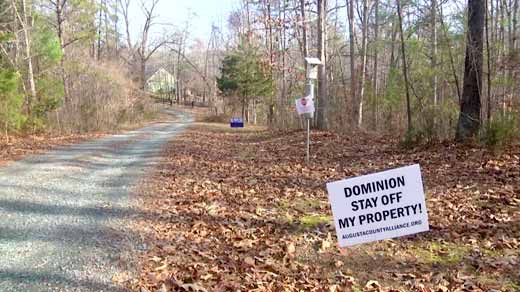 Friends of Nelson oppose Dominion Resources proposed pipeline
NELSON COUNTY, Va. (WVIR) -
Friends of Nelson, the group opposing a proposed natural gas pipeline through Nelson County, plans to raise money to pay for a study of the project's impact on landowners.

The 550-mile pipeline would deliver natural gas to the Southeast. The proposed pipeline. that would run through West Virginia, Virginia and North Carolina. is a joint venture between Dominion Resources, Duke Energy, Piedmont Natural Gas and AGL Resources.

Members of Friends of Nelson say they want objective data to show the real cost to the county and people who live there. They say the data offered by Dominion Resources only tells one side of the story.

Joanna Salidas, the new president of the Friends of Nelson group, says right now there is no real way to measure the financial impact on businesses and landowners. "What are the costs? What are the costs in lost revenue to businesses? What are the costs in lowered property values?"

Salidas believes an independent study will only bolster pipeline opposition. She has a special stake in the pipeline project. She is among the hundreds whose properties are along the proposed route of the three-and-a-half foot wide natural gas pipeline. Salidas says she could lose thousands from the value of her home.

"Property owners are convinced that their interests are harmed by this pipeline and that matters because real estate values, they have to do with perception and we believe that our property will be devalued," she stated.

Salidas says the biggest argument in support of the project is that it will create jobs, but she says that doesn't justify it. "Is it fair for me as a property owner to lose a portion of my property against my will and not be fully compensated for it to give somebody else a job?"

Members of Friends of Nelson are offering to hire a consultant to complete a study for the Nelson County Board of Supervisors. Connie Brennan, the chair of the Nelson County Board of Supervisors, says she is on board. "I'd really like to see an environmental impact study on what it costs to mitigate streams, wetland restoration, because that is a huge issue and has been done in other states, so hopefully they'll include that in there."

Salidas believes the information could also influence the Federal Energy Regulatory Commission, the agency reviewing Dominion's pipeline proposal. "FERC tends to weigh economic factors really, definitely the highest, so that's why we want this study to present to them to say look we are being harmed by this pipeline. We want objective numbers for that," she said.
Friends of Nelson will be presenting their argument before FERC with supervisor Brennan on Tuesday, January 9 in Washington D.C.
Salidas says the group is currently searching for a firm to complete that study and expects it to take about four months. Friends of Nelson hope to have that completed before that federal commission releases its draft environmental impact statement next fall.