UVA Alum Raise Money for Sex Assault Advocacy
Posted:
Updated: Dec 27, 2014 02:57 PM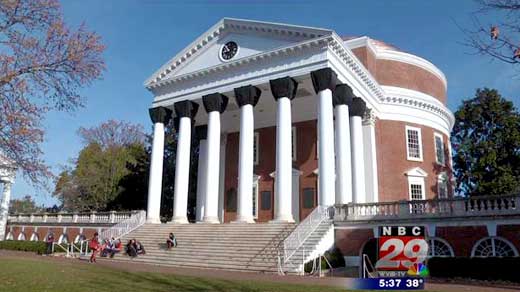 CHARLOTTESVILLE, Va. (AP) - Alumni from the University of Virginia are raising money to provide an attorney to sexual assault survivors at the Charlottesville school.
The Sexual Assault Advocacy Fund has raised $31,280 from about 360 people since November through the website CrowdRise.com.
Lisa Richey launched the fund after a Rolling Stone article describing an alleged gang rape at a fraternity house in 2012. The magazine has since apologized for what it calls discrepancies in details of the account.
The Daily Progress reports (http://bit.ly/1tphibQ ) that Richey has been working with Palma Pustilnik, an attorney at the Central Virginia Legal Aid Society. One idea is to hire an aide to do intake interviews, provide legal information and help with paperwork. Pustilnik represents Jackie, the now third-year student at the heart of the Rolling Stone story.
Information from: The Daily Progress, http://www.dailyprogress.com
Copyright 2014 The Associated Press. All rights reserved. This material may not be published, broadcast, rewritten or redistributed.