Rape Awareness Rally Held at UVA Amphitheater
Posted:
Updated: Dec 04, 2014 04:05 PM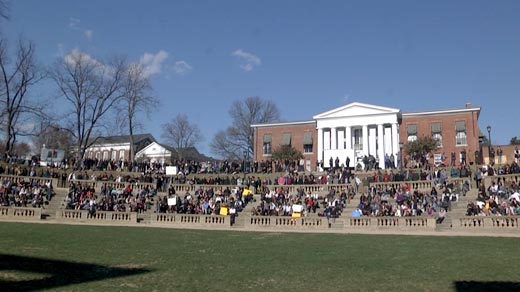 Demonstration at UVA Amphitheater
CHARLOTTESVILLE, Va. (WVIR) -
Thursday, hundreds of University of Virginia students and faculty stood up and raised their voices about the changes needed to put an end to the sexual assaults. More than 500 students and faculty turned out for the rape awareness rally inside the UVA Amphitheater.
The rally comes one day after Rolling Stone magazine published an article titled, "A Rape on Campus: A Brutal Assault and Struggle for Justice at UVA." The article focuses on what it calls "a culture of rape" at UVA and several women who share disturbing stories about what they say happened to them.

Students and professors made passionate speeches to the crowd about the need to face reality about sexual assaults on grounds. People were encouraged to wear white to show their support of innocent survivors. Participants made posters with messages that supported the ongoing fight against rape and demanding the administrators enact change.

"I feel that it is incumbent on the faculty and the students at this university to hold them accountable, to move forward much more aggressively on this issue and obviously its going to be difficult because there are people who like to keep things the way they are, they way they've always been," said Jahan Ramazani, English professor at UVA.

The demonstration concluded with all who attended joining together and singing "The Good Old Song" as a reminder that they must stay unified.

The Middle Eastern Islamic Student Association at UVA hosted the event.