Organizers Celebrate Jackson-Via School Garden Makeover
Posted:
Updated: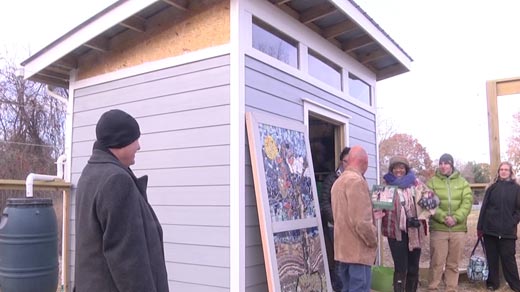 CHARLOTTESVILLE, Va. (WVIR) -
Several Charlottesville organizations are celebrating the completion of a newly renovated school garden.
Building Goodness Foundation and City Schoolyard Garden came together Wednesday afternoon for a special dedication ceremony. Representatives from the different partnering groups held an opening celebration at the Jackson-Via Elementary School garden site Wednesday.
Organizers say the project was truly a collaborative neighborhood effort. Dozens of builders and volunteers from the community put in the labor to give this longstanding garden a much-needed makeover.
There is now a brand new garden shed and fence to enhance the learning experience for students. The goal was to provide a space for kids to really dig into the garden and take ownership of their plants.
City Schoolyard Garden's executive director says the fence will also help keep out deer and groundhogs.
"It meant a lot to me personally to be part of BGF and work so collaboratively with City Schoolyard Garden because it's been a dream that's taken a long time to happen. It took a lot of partners to bring it together, a lot of resources and for it to be so beautiful is just very gratifying," said Kelly Eplee, BGF executive director.
Additional project partners include Charlottesville City Schools and Sticks Kebob Shop.
City Schoolyard Garden is in the process of building sheds for four of their seven sites. Organizers say it will give them more tools to teach kids civic engagement and healthy habits through this garden-based learning.
For more on the City Schoolyard Garden, click here.