UPDATE: Sunday Search for Hannah Graham at Walnut Creek Canceled
Posted:
Updated: Oct 18, 2014 07:43 PM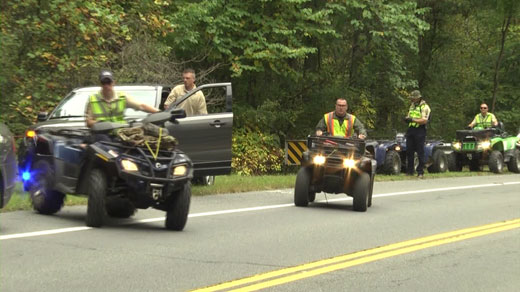 UPDATE: The volunteer search for missing UVA student scheduled for Sunday is now canceled. The Virginia Department of Emergency Management says "Authorities are now focusing on the recent evidence." Saturday, the Albemarle County Police Department held a press conference where they said they found what is believed to be the remains on Hannah Graham on an abandoned property near Walnut Creek Park in Albemarle County.
---
ORIGINAL:
The Virginia Department of Emergency Management will be enlisting the public's help again this weekend in the continuing search for missing University of Virginia student Hannah Graham. This comes almost one month after the first community search that drew out more than 1,000 volunteers.
The site of the search this weekend will be at Walnut Creek Park in southern Albemarle County. VDEM is hoping for a similar turnout this Sunday to scour the park and the surrounding woods for clues.
It has now been five weeks since Graham, a second-year UVA student, was last seen on Saturday, September 13. Crews say the previous search of the city of Charlottesville went well and allowed them to efficiently cover almost the entire area in one weekend. There will be two groups of searchers going out at staggered times of 9 a.m. and 1 p.m.
VDEM says volunteers will need to bring their own lunches and will need to wear bright orange or neon clothing, as they will be near hunting areas.
All volunteers are required to sign up online before Sunday to take part in the search.
Virginia Department of Emergency Management Press Release:
RICHMOND, Va. – Following a month of extensive state and local efforts to search for missing University of Virginia student, Hannah Graham, officials are, once again, reaching out to the community for volunteers to assist with the search.
Organized searches will take place Sunday at Walnut Creek Park (4250 Walnut Creek Road, North Garden) in Albemarle County at 9 a.m. and 1 p.m. Due to limited parking and facilities, only the first 200 registrants will be accepted. All volunteers must be at least 18 years old to participate in the search.
Registrants must select either the 9 a.m. or 1 p.m. search, or both. Only those who have registered will be permitted to participate in Sunday's search. Sunday's search efforts will terminate at 4 p.m.
Volunteer searchers will be hiking off-trail, through dense vegetation and brush. They are encouraged to wear long pants, sturdy footwear (boots preferred) and a light jacket. Searchers should also bring:
Safety vest or blaze orange shirt, jacket or hat to increase visibility (search will be conducted adjacent to areas where hunting may take place)
Small backpack to carry at least 2 quarts of water and food/personal items
Lunch and snacks for the day (food will not be provided)
Bug repellant (ticks are prominent in this area)
Small, personal first aid kit (recommended)
Leather work gloves
Volunteers will sign in when they reach the park. A general briefing will be provided and then volunteers will be divided into teams and assigned a team leader. Team leaders will be briefed separately with specific task instructions.
A mass search for Graham was held the weekend of Sept.20-21. Approximately 1,250 community volunteers covered areas within the city of Charlottesville.
Sign Up for Email Alerts

Sign up to receive news, weather, and breaking news emails from the NBC29 newsroom in your inbox daily.

* denotes required fields






Thank you for signing up! You will receive a confirmation email shortly.