Police Confirm Identity of Person of Interest in Hannah Graham Case
Posted:
Updated: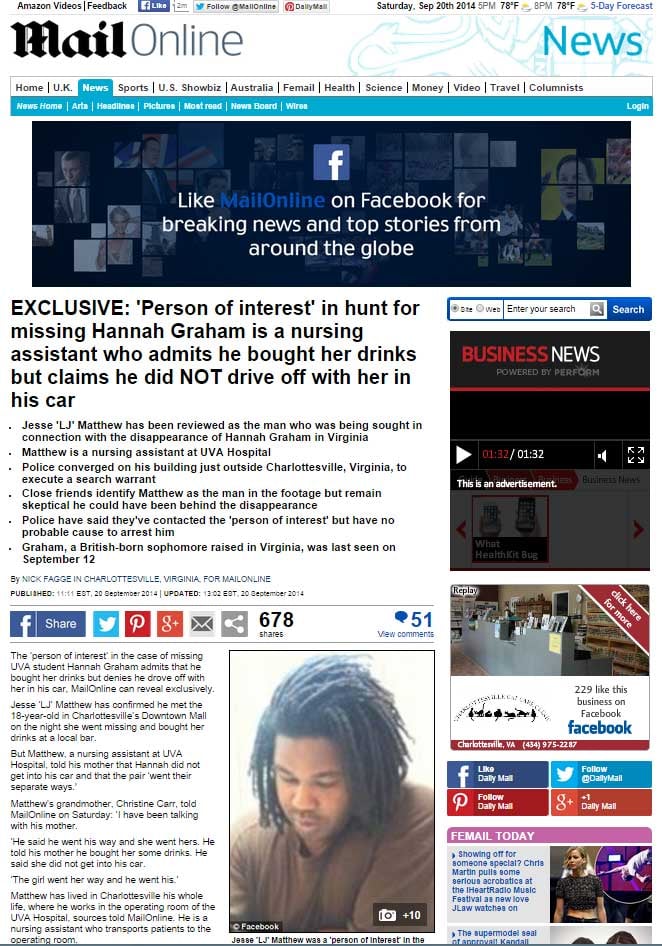 Screenshot of MailOnline article
Surveillance photo of person of interest
Charlottesville police have identified the person of interest in the case of missing University of Virginia student Hannah Graham as Jesse 'LJ' Matthew. In a press conference on Friday, police revealed they had identified a person of interest in the case, but they did not release his name at that time. Police call him a person of interest, they have not referred to him as a suspect nor is he charged with any crime related to the Hannah Graham case. Police say they have had contact with him but formal questioning has not taken place.
UVA second-year student Hannah Graham, 18, has been missing since the early morning hours of Saturday, Sept. 13. She is described as a white female, approximately 5'11" tall with a skinny build. She has blue eyes, light brown hair and freckles. She was last seen wearing a black crop top with mesh cutouts.
On Friday police executed two search warrants in connection with the case at an apartment - condo complex located off Georgetown Road in Albemarle County. One of the search warrants was for Matthew's car, a burnt-orange 1998 Chrysler Coupe. The other was for his apartment in the 100 block of Hessian Hills Way.
When speaking of the person of interest in Friday's press conference, police said he was seen on surveillance video on the downtown mall walking west as Graham walked east. He then crossed the mall and followed her. That's the last time Graham was caught on video. The man was later spotted with his arm around Graham. Police said that the man went to Tempo, a restaurant on Fifth Street Southeast on the mall, with Graham between 1 a.m. and 2 a.m. Saturday and left with her. They say they have "every reason to believe" she got in his car.
According to the MailOnline, Matthew is a nursing assistant at UVA Medical Center who admits that he bought Graham drinks but denies he drove off with her in his car, Read more from MailOnline here:
http://www.dailymail.co.uk/news/article-2763500/EXCLUSIVE-Person-hunt-missing-Hannah-Graham-nursing-assistant-admits-bought-drinks-claims-did-NOT-drive-car.html#ixzz3DskmLHa6
This is a developing story, we will bring you updates as they become available.