Thousands Gather at Vigil for Hannah Graham
Posted:
Updated: Sep 19, 2014 12:01 AM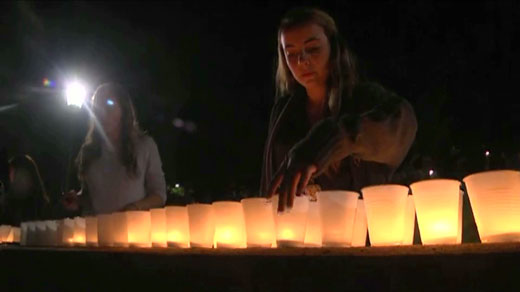 CHARLOTTESVILLE, Va. (WVIR) -
Thousands gathered Thursday night for a vigil in the University of Virginia Amphitheater in honor of Hannah Graham.
Students held candles and played music, all with one message: bring Graham home.
The vigil was full of little reminders to help paint the picture of who she is. All of the music was selections of her favorite songs, some played on alto saxophone, her favorite instrument. Every seat had a pink Starburst on it, because it's her favorite flavor. Skiing is her favorite hobby so the stage featured a pair of skis, as well as a British flag because she was born in England.
Fellow students say they all feel a sense of loss, and of hope for her return.
"Those who do know her and those who don't, it really doesn't matter. It's mostly, she's a member of the UVA community. A lot of people know her, who she is as a person, what organizations she was involved in, and we're really just trying to all come here together and hope for her safe return," said Eric Dotterer a member of UVA's second-year council.
The event was organized by the second year council and the student council.
The crowd heard from a number of speakers, including her close friends and the student class president. The feeling of all the speakers was one of hope and belief that, in this weekend's coming search, they will find their classmate.
The search, organized by the Blue Ridge Mountain Rescue Group, will take place Saturday and Sunday.