Search for Missing UVA Student Moves to Downtown Mall
Posted:
Updated: Sep 17, 2014 10:30 PM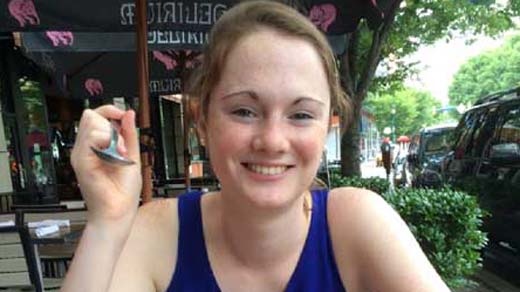 Hannah Graham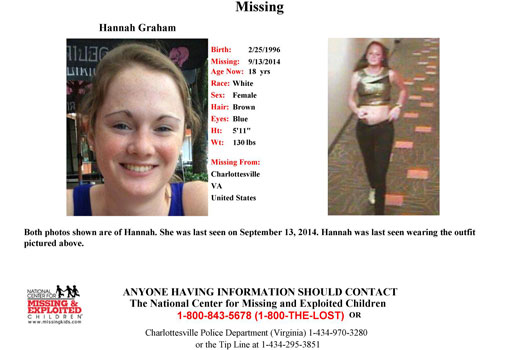 Poster from the National Center for Missing & Exploited Children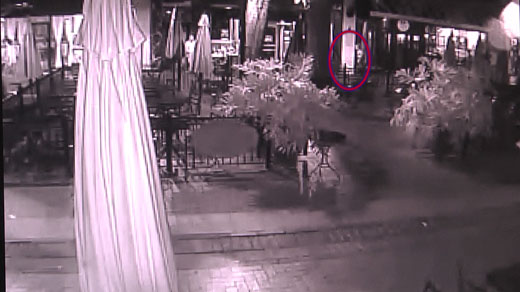 Surveillance from Sal's Caffe Italia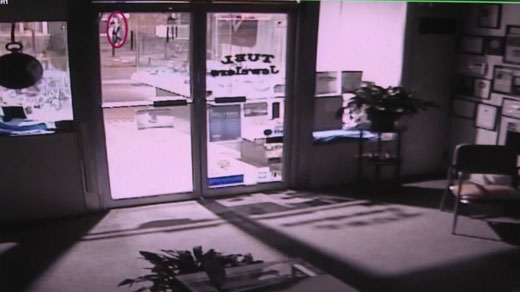 Surveillance from Tuel Jewelers
CHARLOTTESVILLE, Va. (WVIR) -
Charlottesville police are shifting their investigation into the disappearance of a University of Virginia student to the downtown mall. Hannah Elizabeth Graham was reported missing on Sunday when friends and family realized they hadn't seen or heard from her since late Friday/early Saturday morning.
Surveillance video released Wednesday shows 18-year-old, second-year student Graham heading downtown early Saturday morning. Wednesday night, Charlottesville police released surveillance videos from Sal's Caffe Italia - at 1:06 a.m. Saturday - and from Tuel Jewelers - at 1:08 a.m. - that show Graham walking on the downtown mall.
A man is seen walking in front of Graham. He stops and is then seen walking behind her. Two minutes later, Graham is seen walking with another woman with the same man following them. The man has identified himself and has spoken to police, saying he followed Graham to see if she needed help. He says he saw another man put his arm around Graham, and now police are looking for that second man.
Captain Gary Pleasants of the Charlottesville Police Department stated, "As he was following her, he said a black male came up to her, put his arm around her. They stopped and were talking and it appeared to him that he was trying to help Hannah."
Thursday, police will pull more surveillance video to see where she and the unidentified man went next.
Police began the search for Graham on Sunday. On Monday, they searched the area of 14th and Wertland streets, the nearby railroad tracks, and a large area east of the university, but found no trace of Graham. The search resumed Tuesday with the assistance of the FBI, Virginia State Police, the Albemarle County Sheriff's Office, and the Virginia Department of Emergency Management. Tuesday afternoon, police adjusted their search area farther east after getting a report Graham was seen on surveillance video outside McGrady's.

Graham made it all the way to the downtown mall, more than a mile and a half from the party she attended near the UVA corner Friday night.

During a police press conference at CitySpace Wednesday afternoon, new surveillance video was shown. The video shows Graham in front of McGrady's Irish Pub on Grady Avenue at 12:46 Saturday morning. Nine minutes later, at 12:55 a.m., security cameras at the Shell gas station caught Graham running, then walking, along Preston Avenue headed toward the downtown mall. Police say no one is seen chasing her in the surveillance video. Five minutes later, at 1 a.m., an eyewitness sitting in a car by Fellini's restaurant spotted Graham turning the corner from Market Street heading toward the downtown mall on Second Street northwest. Surveillance video also shows her walking by Sal's at 1:06 a.m. and by Tuel Jewelers at 1:08 a.m. A final text from Graham's cellphone was sent at 1:20 a.m. saying she was lost back over by the UVA corner.

Charlottesville police put a call out for security camera footage from any other downtown businesses on Friday night or Saturday morning.

"We saw - how many people did you see in that video at McGrady's? I don't know how many calls we got from people at McGrady's who may have seen her, but I'd be very disturbed that someone on this downtown mall did not see this young lady and has not yet called police to report it. We're hoping there were people on the mall and they're hearing my words and seeing my frustration," said Charlottesville Police Chief Tim Longo.

During Wednesday's press conference, police maintained that foul play is not suspected in Graham's disappearance. Police did plead with the community for any clues regarding Graham's whereabouts. Chief Longo also asked property owners to check their property, especially larger areas like farms, for any clues. He said they have interviewed about 50 people, and have received 100 tips regarding the case.

Chief Longo read a statement from Graham's parents aloud at the conference. In the statement, Graham's parents state that they fear foul play and that they will not rest until they find their daughter. Read the statement in full below.

All documents related to the Graham case are currently sealed at Charlottesville Circuit Court. A source says those filings include a search warrant for Graham's phone records.

Graham is described as approximately 5'11" tall with a skinny build, with blue eyes, light brown hair and freckles. She was last seen wearing a black crop top with mesh cutouts. Graham is a second-year student at UVA who graduated from West Potomac High School last year. She's originally from the U.K. but her parents live in Alexandria in Fairfax County.

Police want to hear from anyone who may have seen her or has any information as to where she may have been going. If you have information on this case, call the dedicated tip line: 434-295-3851 at the Charlottesville Police Department.

UVA has created a web page with information about Graham and resources for both UVA students and their parents. The page includes information on safe transportation options on and around campus and tip line information. A message from UVA President Teresa Sullivan to the parents of UVA students is included in the web page. The message tells parents that the school has resources available for students to utilize during this difficult time, but that parents are possibly the most important resource for students. To read the message in full, click here.

Statement from Hannah Graham's parents:
Hannah is beyond precious to us, and we are devastated by her disappearance. It is totally out of character for us not to have heard from her, and we fear foul play. We are in constant contact with the Charlottesville Police Department and the University of Virginia.

We have learned CPD has received many helpful leads from the public. We are very grateful for all information already provided and urge members of the public to continue to call the dedicated tip line, with anything at all, however small it seems.

We would also like to recognize the many messages of support we have received from Hannah's friends at UVA, her friends from high school, band and softball team, as well as our neighbors, friends and work colleagues, too many to count.­­­­­

Although we are British, Hannah has lived in Virginia since she was five. This is her home and we have always felt welcome here.

We are so very grateful for everyone involved in the search for Hannah. Like you, we will not rest until we find her and she comes home.

Once again, if you have any information at all, however insignificant it may seem, please call 434-295-3851. Thank You.

John and Susan Graham
Sign Up for Email Alerts

Sign up to receive news, weather, and breaking news emails from the NBC29 newsroom in your inbox daily.

* denotes required fields






Thank you for signing up! You will receive a confirmation email shortly.