UPDATE: Former Student Sentenced after AHS Lockdown
Posted:
Updated: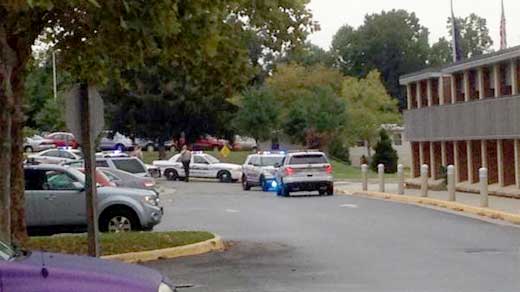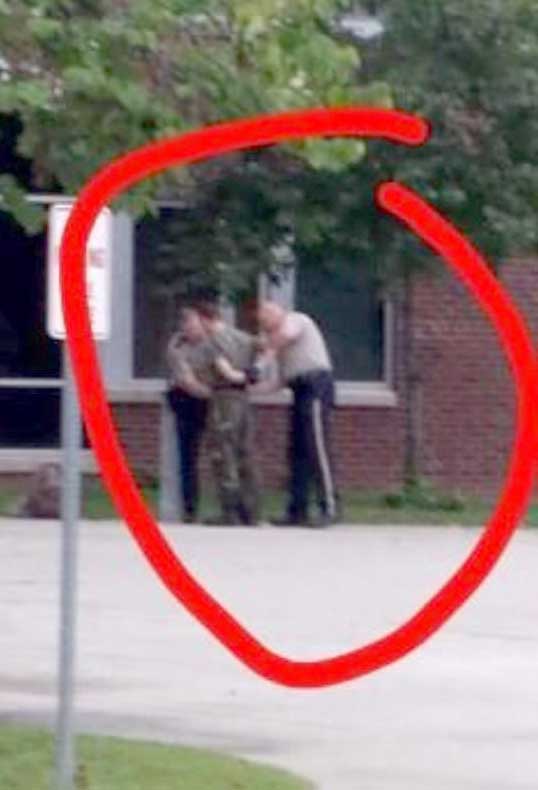 Photo tweeted by an AHS student saying "here's what's happening."
UPDATE: Matthew Aaron Carpenter's case was finalized October 7 in Charlottesville General District Court. The trespassing charge was dropped. A judge found Carpenter guilty of possessing a weapon on school property and sentenced him to 60 days in jail.
---
Matthew Aaron Carpenter is facing charges after police say he carried a knife near the front entrance of Albemarle High School Monday morning. Police and school administrators placed the school on lockdown for two hours, while students waited in classrooms and buses for an all clear.
The incident happened around 8:30 a.m. when more than 2,000 students and parents were trying to get on Albemarle High School's campus for class Monday. Students were transferred to Jack Jouett Middle School and Greer Elementary while police searched each classroom at AHS for any safety threats.
Police say Carpenter, a former AHS student from Hopewell, was arrested and made no threats to students or faculty Monday.
"As he came on campus my assistant principal stopped him and noticed he had some things on him he probably shouldn't have had on him at school and then he did exactly what he supposed to do and notify police," said Jay Thomas, principal at Albemarle High School.
According to Albemarle police, Carpenter is charged with trespassing on school property and having a weapon on school property - both misdemeanor offenses.
Thomas issued a full statement to parents and the community about Monday morning's lockdown. He also thanked the Albemarle police, faculty and staff for their quick actions.
School administrators say faculty and staff are trained every year to make sure they understand and can execute the school's crisis management plan quickly and safely. They also say faculty and staff were required to attend a mandatory meeting after school Monday to talk about the lockdown.
Albemarle County Police Department Press Release
The Albemarle County Police Department responded to Albemarle High School at 8:30 this morning for a report of an individual who was armed with a knife. Officers arrived within two minutes and the individual was detained without incident.

The suspect, Matthew Aaron Carpenter, was a former student at Albemarle High School. He is 19 years old and currently from Hopewell, Virginia. He was arrested and charged with trespassing on school property and having a weapon on school property, both misdemeanor offenses.

Carpenter never entered the inside of the school building. Staff saw him on school property prior to the start of the school day. He was directed to the front of the building where administrators saw him, found his behavior and presence suspicious and called 911. As soon as it was determined that he had a weapon on him, the school was immediately placed on lockdown. He never made a direct threat to any individual at the school and did not threaten administrators when they questioned him at the entrance of the building.

Out of an abundance of caution, officers searched the interior and exterior of the school to make sure there were no other potential threats in the area. The school remained on lockdown and evacuated while officers searched the area to make sure it was safe for students and staff.

We appreciate the help of school administrators and the patience of parents. We understand the concern and our main priority is safety. We are pleased with the quick response by everyone involved.
Sign Up for Email Alerts

Sign up to receive news, weather, and breaking news emails from the NBC29 newsroom in your inbox daily.

* denotes required fields






Thank you for signing up! You will receive a confirmation email shortly.