Young African Leaders Cap Fellowship by Meeting with Obama
Posted:
Updated: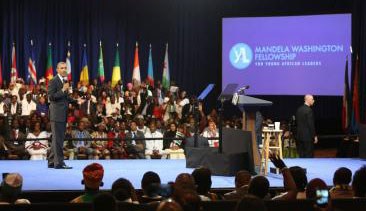 Photo courtesy of news.virginia.edu
University of Virginia Press Release
Twenty-five of Africa's most promising young leaders – hosted for six weeks by the University of Virginia, the College of William & Mary and several presidential homes as part of a new White House fellowship – capped their work last week with an exclusive town hall meeting with President Obama.

At a time of intense international unrest in the Middle East and beyond, the president, Secretary of State John Kerry, First Lady Michelle Obama and top level White House advisers took the time to participate in the event in a demonstration of U.S. commitment to Africa.

U.Va. hosted the group as part of the Presidential Precinct – a consortium comprising William & Mary, Thomas Jefferson's Monticello, James Madison's Montpelier, James Monroe's Ash Lawn-Highland and U.Va.'s Morven – for six intensive weeks of civic leadership training.

The 25 women and men joined 475 other promising African leaders who were hosted elsewhere across the country on July 28 for the town hall meeting with the president, held in a lavish ballroom in northwest Washington.

Thunderous applause broke out as Obama strode on stage, the decibel meter straining further when he got to his first order of business.

"Today, with the blessing of the Mandela family … we are proud to announce that the new name of this program is the Mandela Washington Fellowship for Young African Leaders," he announced.

"Now, I know … all of you have been busy at some of America's top colleges and universities," Obama continued. "You've been learning how to build a grassroots organization, and how to run a business, and how to manage an institution."

He opened the floor to questions from the eager group. Queries ranged from business dealings, to debt forgiveness and gender inequality.

Obama said nations thrive when they treat their women with respect. "If you are not empowering half of your population, that means you have half as few possible scientists, half as few possible engineers," he said. "... To be successful, all the men here have to be just as committed to empowering women as the women are."

One of the men in the audience was Jacob Ouma, a communicator and politician from Kenya who spent the summer in Virginia. "It is true what he said. If you know your place in society and somebody's star is shining, it does not dim your star," he said. "If you realize that when a woman shines she adds to your light, then I don't see why you should fear their success."

Michelle Obama also took up the issue of gender inequality in her remarks, and the audience joined in as she invoked a famous Mandela saying: "It always seems impossible until it is done."

Teaching Civic Leadership the Founding Fathers Way

The Presidential Precinct tailored a unique civic leadership curriculum for the fellows, who traveled to all of the partner institutions over the course of the six-week program. Highlights included a welcoming ceremony at U.Va. with U.S. Sen. Tim Kaine, instruction from preeminent faculty at U.Va. and William & Mary and guest presentations from leaders in business, media and politics. There were also visits to some of the United States' most historic locations, including Monticello, where fellows witnessed the 52nd annual Independence Day Celebration and Naturalization Ceremony.

"I am proud of how effectively U.Va. professors, staff and student interns worked with the incredible group of young African leaders," said Jeffrey W. Legro, vice provost for global affairs. "We learned a great deal and hope they did as well. It was a privilege to work with our Precinct partners to produce one of the best fellowship programs in the country."

U.S.-Africa Leaders Summit

The town hall was a lead-up to this week's U.S.-Africa Leaders Summit. The largest event any U.S. president has held with African heads of state and government, some 50 leaders were in Washington for what National Security Adviser Susan Rice termed a "true inflection point" in U.S.-Africa cooperation.

Speaking Tuesday during a session on business, Obama told the leaders about his time with the Mandela Washington Fellows.

"I have to say to the heads of state and government, you would have been extraordinarily proud to meet these young people who exhibit so much talent and so much energy and so much drive. … If they succeed, then the countries in which they live will succeed," he said.

White House State Dinner

The summit culminated Tuesday evening with a state dinner at the White House. Of the 500 Mandela Washington fellows, only four were selected to attend.

Two of those fellows participated in the Presidential Precinct program. Luyando Haangala, a media consultant from Nigeria, and Martine Ekomo, a development officer from Central Africa Republic, dined on chilled spiced tomato soup and grilled dry-aged beef seasoned with chermoula, a spicy Northern African marinade. They also chatted with the president, vice presidential wife Jill Biden, Kerry and other leaders while being entertained by singer Lionel Richie.

Ekomo, who wants to build a youth center to promote peace in her violence-torn country, said she feels well-equipped to return home and get to work. "It really gives you tools to explain your vision to people," she said.

More than 50,000 people between the ages of 25 and 35 applied for the inaugural Mandela Washington Fellowship. Groups of 25 fanned out to 20 college hosts across the country.

The Presidential Precinct will welcome another cadre of Mandela Washington Fellows next summer. The White House has committed to doubling to 1,000 the number of fellows by 2016.
Sign Up for Email Alerts

Sign up to receive news, weather, and breaking news emails from the NBC29 newsroom in your inbox daily.

* denotes required fields






Thank you for signing up! You will receive a confirmation email shortly.