'Hoos and Hokies Kickoff Fall Practice
Posted:
Updated: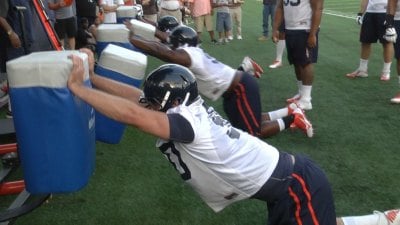 Fall practice got underway at Virginia and Virginia Tech on Monday.
In Charlottesville, the 'Hoos are having night practices for the first time under coach Mike London.
The Cavaliers have a lot of work to do coming off a 2-10 season.
Virginia is picked to finish last in the ACC's Coastal Division this year, partly because there's questions about whether Greyson Lambert can be an effective quarterback.
The sophomore from Georgia connected on a few nice deep balls Monday night.
Lambert says, "It was good getting back out here with the guys, made some throws, missed a good amount of throws too so it's a good first day but there's still a lot of work to do. We've all been working really hard this offseason, this summer, we've really come together out here during 7-on-7 and routes and stuff, so I feel like all of us have gotten loads better since spring even."
Coach Mike London says, "The players are excited about the schedule and teh opportunities that they can make for themselves, that's been one of the neat things about this team is this year, the unity, the amount of seniors, collectively there's optimism with this group."
At Virginia Tech, the quarterback battle is underway. Texas Tech transfer Michael Brewer took reps with the first team offense but on the depth chart he's listed on the second team.
Quarterbacks Mark Leal and Brendan Motley are listed as co-number ones.
One less running back was on the field... Chris Mangus has decided to transfer. Trey Edmunds is back following surgery to fix his broken leg.
Coach Frank Beamer says, "I thought practice today was really really good. I thought we had great energy out there. We got a lot accomplished, probably as much as any first day practice we've ever had around here."