Craft Beer Industry Helps Grow Virginia's Tourism Economy
Posted:
Updated: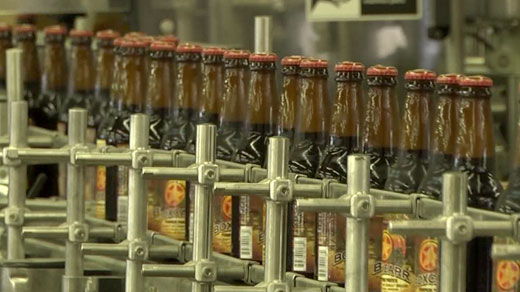 Bottles at Starr Hill
According to the Virginia Tourism Corporation, the commonwealth is quickly becoming a hot spot for craft beer lovers.
Tourism in parts of central Virginia is increasing thanks to the wide variety of quality craft beers available.
A study by the Brewers Association reported the budding industry employs more than 8,000 employees and brings more than $600 million to local economies.
"In the past like seven years it's just exploded in Virginia. I mean just Charlottesville, there's so many breweries here now and when we opened up I believe it was just us, Starr Hill, and South Street were the three and now there's a bunch out here now and it's just continuing growing," said Matt Nucci, co-owner of Blue Mountain Brewery.
Area brewers say working together to make new craft beers helps pique the interests of beer lovers passing through.
"We're finding ways to reach out there with each other and for good reasons collaborate, make a beer, have fun together doing it and then also make a great product," said Brian McNelis, of Starr Hill Brewery.
August is Virginia Craft Beer Month and breweries are trucking out specialty beers to celebrate.
Virginia Tourism Corporation Press Release
RICHMOND (July 31, 2014) - With 82 breweries and more opening every year, Virginia has become a magnet for the craft beer industry. Local love is on tap and August has recently been named Virginia Craft Beer Month to celebrate the budding industry. The commemorative month is a great time to highlight not only some of the Commonwealth's amazing craft breweries, but also to recognize a fast-growing segment of Virginia's economy.

Virginia's state tourism development plan, DRIVE Tourism, identified craft breweries and distilleries as an expanding culinary tourism attraction opportunity statewide. Craft beer is big business in Virginia, making an estimated economic impact of more than $622 million. A study by the Brewers Association found that the craft beer industry employs more than 8,000 employees with an average wage of $33,541 and total labor income of more than $273 million.

"Love is at the heart of every Virginia vacation, but it's also at the heart of every carefully-crafted Virginia beer at more than 82 breweries and counting," said Rita McClenny, president and CEO of Virginia Tourism Corporation. "Across the state, craft breweries are offering an exceptional travel experience for beer lovers, outdoor lovers, and culinary enthusiasts.

"Virginia is fast becoming the prime East Coast destination for travelers looking for local flavor. Craft beer is also a multi-million dollar industry, contributing positively to the economies of small towns and big cities across the Commonwealth."

Many of Virginia's craft breweries are located within or in close proximity to smaller towns and communities Places like Abingdon, Afton, and Salem now have breweries, and locations such as Bristol, Floyd and Glade Spring are expecting brewery openings this year.

Many more communities are targeting brewery businesses to compliment other related tourism economic development efforts. Leaders in St. Paul, Virginia, for example, are interested in a brewery to enhance the experience of visitors who are now coming to ride the Spearhead Trails and float the Clinch River, both as part of key economic development initiatives in which Virginia Tourism Corporation has been involved.
Sign Up for Email Alerts

Sign up to receive news, weather, and breaking news emails from the NBC29 newsroom in your inbox daily.

* denotes required fields






Thank you for signing up! You will receive a confirmation email shortly.