Airbus Partners with Commonwealth Center for Advanced Manufacturing
Posted:
Updated: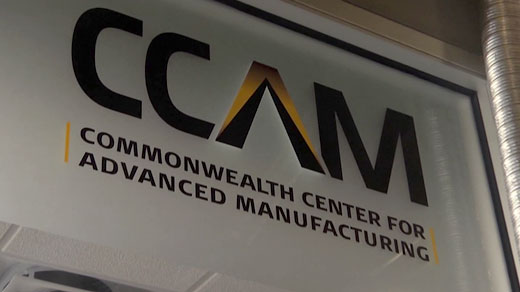 CCAM
CHARLOTTESVILLE, Va. (WVIR) -
The University of Virginia's engineering department is celebrating another corporate partnership this week.
Airbus, Europe's largest airplane manufacturer, is joining 18 other companies to partner with the Commonwealth Center for Advanced Manufacturing (CCAM). CCAM partners with some of Virginia's leading academic institutions including UVA, Old Dominion, Virginia Tech, and Virginia State University.
According to CCAM's official website, corporate members guide research, leveraging talent and resources within CCAM and at Virginia's top universities through a collaborative model that enables them to pool research.
UVA Senior Associate Dean Barry Johnson says students will be working with Airbus to develop solutions for real industry challenges.
"They manufacture one of the most complicated products in the world in jets, airplanes and so we're delighted to have them on our team," said Johnson. "We're working with Airbus now to map out a road map, a research agenda with them, and we'll be doing that over the next few months."
Johnson says, in addition to giving professors and students direct industry experience, the partnership allows many job and internship prospects.
University of Virginia Press Release
European aerospace giant Airbus is the latest corporate partner to sign on with the Commonwealth Center for Advanced Manufacturing, an industry, academic and government consortium dedicated to manufacturing breakthroughs and advancements in applied research.

Also, Aerojet Rocketdyne, a missile propulsion and launch system manufacturer, announced it is expanding its role in CCAM. Both companies will become "organizing industry members," the front rank of corporate involvement in the center.

CCAM, based in Prince George County, is an applied research center that provides production-ready, advanced manufacturing solutions to member companies across the globe. Corporate members guide the research, leveraging talent and resources within CCAM and at Virginia's top universities – including the University of Virginia – through a collaborative model that enables them to pool research and development efforts to increase efficiencies. Results can then be applied directly to the factory floor, turning ideas into profit faster and more affordably than ever before.

The Airbus and Aerojet Rocketdyne announcements were made Wednesday at the Farnborough Air Show in London. Patrick D. Hogan, UVA's executive vice president and chief operating officer; James Aylor, dean of UVA's School of Engineering and Applied Science; Barry Johnson, senior associate dean in engineering; Pam Norris, associate dean in the Department of Mechanical and Aerospace Engineering; and Pace Lochte, assistant vice president for strategic initiatives, were present for the announcement, as was Virginia Gov. Terry McAuliffe.

"We value our corporate partners and know that these collaborations are an excellent way to leverage resources," Hogan said. "New research discoveries will lead to new technologies, attract high-quality companies to the commonwealth and create jobs. As a CCAM member, UVA looks forward to working with Airbus and Aerojet, and we appreciate the opportunity to identify new research partners for our faculty and offer new experiences for our students."

Airbus will join CCAM as an organizing industry member. Having made a five-year commitment to CCAM, Airbus will have influence over management, vision and research plans, appoint one voting member to the CCAM board of directors, and to CCAM's Industry Operations Board and the Technical Advisory Council. Airbus will also dedicate a full-time person to work at CCAM; provide $500,000 in-kind support, such as equipment and software; and help bring on additional members from among their suppliers.

"Airbus was founded on innovation – we operate daily knowing that using and developing leading-edge technology is a requirement in our business, and CCAM is founded on that mindset," said Charles Champion, executive vice president of engineering for Airbus. "This union is a natural one. Tapping the intellects of the greatest researchers in the industry benefits everyone involved, from the developers to the end users."

"Airbus is a global leader in advanced manufacturing and a pioneer in applying forward-thinking innovation," said Joseph F. Moody, CCAM's president and executive director. "As a CCAM organizing industry member, Airbus will bring decades of expertise in engineering technologies and manufacturing systems to the research conducted at CCAM."

Aerojet Rocketdyne is upgrading its membership from tier 2 to an organizing industry member.

"This is an exciting next step in our ongoing partnership with the Commonwealth Center for Advanced Manufacturing," Warren Boley, president of Aerojet Rocketdyne, said. "We have had great success in advanced manufacturing techniques and their application to our aerospace and defense product lines. This expanded partnership with CCAM will afford Aerojet Rocketdyne even greater opportunity to innovate and evolve our advanced manufacturing capabilities."

CCAM industry and government members include Canon Virginia Inc., Chromalloy, Newport News Shipbuilding, Rolls-Royce, Sandvik Coromant, Siemens, Oerlikon Metco, Aerojet Rocketdyne, Blaser Swisslube, Hermle Machine Co., Mitutoyo, Paradigm Precision, Buehler, Cool Clean Technologies, GF AgieCharmilles, Mechdyne, National Instruments, Spatial Integrated Systems, Airbus and NASA Langley Research Center.

Academic partners are the University of Virginia, Virginia State University, Virginia Tech and Old Dominion University.
Sign Up for Email Alerts

Sign up to receive news, weather, and breaking news emails from the NBC29 newsroom in your inbox daily.

* denotes required fields






Thank you for signing up! You will receive a confirmation email shortly.