CASPCA Takes in Dogs from Page County Puppy Mill Bust
Posted:
Updated: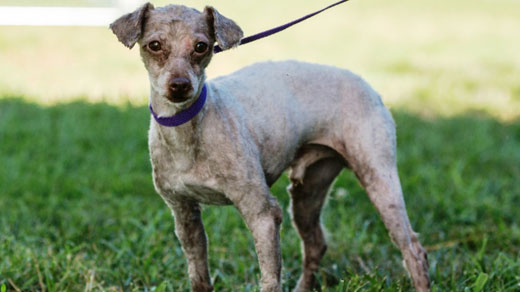 Dogs rescued from terrible living conditions are looking for a permanent home.
More than 100 dogs were recently rescued from a puppy mill in Page County. Eight of those are now at the Charlottesville-Albemarle SPCA ready to be adopted.
The dogs were in filthy living conditions. Many of them are suffering from disease and will need dental surgery before being adopted, which the SPCA will provide.
You can help by providing them a loving home.
"We would love our wonderful supportive community to consider opening their home for these dogs because that is the whole point of getting them out of their situation is getting them into a loving, supportive home," said Laura Jones with the Charlottesville-Albemarle SPCA.
Right now the SPCA has a "freedom special," so adult dogs and cats can be adopted without a fee.
The dogs from rescued from the puppy mill do not, however, fall under that special.
Charlottesville Albemarle SPCA Press Release
Charlottesville, Virginia: After adopting out more than 100 pets during its FREEdom adoption special, the Charlottesville-Albemarle SPCA has opened up space in its kennels to save the lives of more than a dozen dogs from area shelters and the Page County Puppy Mill bust.
The SPCA was able to take in three dogs from Buckingham County, four dogs and a hedgehog from Shenandoah Valley Animal Services and eight dogs from the Page County Puppy Mill Bust from Animal Rescue Corps.
From the Page County Puppy Mill, the Page County Sheriff's Office, Page County Animal Control and the Washington D.C. organization, Animal Rescue Corps, rescued 134 dogs in total. Many of these dogs were suffering from untreated infections, broken bones, hernias, respiratory conditions, and had been living in filthy conditions often seen in large scale breeding operations.
Area rescues and shelters are coming together to assist with medical care and placing the dogs.
According to the SPCA Medical Director, many of the dogs at the SPCA from the Page County Puppy Mill are suffering from severe disease and will need dental surgery prior to adoption, which the SPCA will provide. All dogs will be medical and behaviorally evaluated and spayed/neutered prior to adoption.
"We are so thankful to be in the position to help Animal Rescue Corps give these dogs a chance at loving homes. We are also always happy to help our neighboring animal welfare organizations save more lives," says Laura Jones, SPCA Director of Operations. "In the case of a large seizure like the one in Page County, it takes many organizations working together to save the lives of hundreds of pets in need."
Many of the rescued dogs are now available for adoption at the SPCA and others are still receiving medical care. The public can meet the dogs at the SPCA daily between Noon and 6PM.
The mission of the Charlottesville-Albemarle SPCA is to provide a safe and nurturing environment for the lost, abandoned, and homeless animals of the City of Charlottesville and the County of Albemarle and to increase the number of these animals being placed in appropriate, loving, and permanent homes through adoptions, foster care, and outreach, and to set a standard of excellence and leadership in shelter animal care, humane education, and progressive animal welfare programs.
For more information about the Charlottesville-Albemarle SPCA call 434-973-5959 or visit our website at
www.caspca.org
. The SPCA's main adoption center is located at 3355 Berkmar Drive in Charlottesville and is open seven days a week from 12 PM– 6 PM
Sign Up for Email Alerts

Sign up to receive news, weather, and breaking news emails from the NBC29 newsroom in your inbox daily.

* denotes required fields






Thank you for signing up! You will receive a confirmation email shortly.