Budding Photographers Share Work at "Lookbetween 2014"
Posted:
Updated: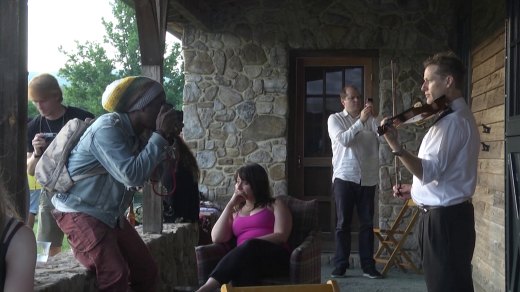 ALBEMARLE COUNTY, Va. (WVIR) -
Budding photographers from around the world are sharing their work at a one of a kind event in Albemarle County. It's called "Lookbetween 2014".
The event brought out 75 photographers from 23 different countries and 15 different states.
Organizers say this year's event is geared toward giving young photographers the tools and experience to help them make it in the industry.
The Lookbetween event was held on a farm in White Hall, where people in attendance camped out Saturday.
It features nearly 30 professional photographers from organizations like the New York Times and National Geographic.
The photographers are leading projects and workshops. The event also invites the public to come see video projects the participants made, which are played at night on an outdoor projection screen.
Look3 staff says the program is invaluable to young photographers.
Victoria Hindley, the Look3 executive director said, "We have a young Syrian war photographer sitting next to a Brazilian photographer sitting next to a photographer from Ohio, and they immediately connect over the same concerns but from very different cultural perspectives and so they're learning a great deal from one another."
Lookbetween is part of a series of yearly events hosted by the Charlottesville based "Look3".
As a follow up to the event, Look3 is sponsoring a photography show at the Paramount Theater in Charlottesville on Wednesday.
It will feature national geographic photographer Joel Sartore.