Streamwatch Report: Rivanna Water Could Be Better
Posted:
Updated: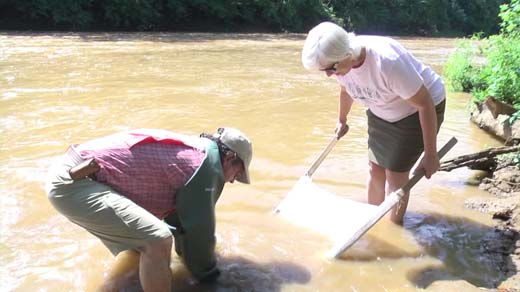 The Rivanna River runs right through Albemarle County and Charlottesville and reflects the overall health of the watershed in the community. The nonprofit group Streamwatch has released a new report showing the quality of that water is not very good.
For the past decade, Streamwatch volunteers have carefully taken and studied samples from the Rivanna. Their findings suggest a majority of our surrounding waterways aren't as clean as they need to be.
Streamwatch volunteer Marilyn Smith captures aquatic organisms - like bugs - on the bottom of the Rivanna River to help monitor the water's quality.
"Your partner stands upstream at the net and kicks the sediment to lift up the rocks because most of the organisms live underneath the cobbles. So you kick those up and they float then into the net," Smith said.
The volunteers, who call themselves citizen scientists, collect the macro-invertebrate samples twice a year from 45 streams in the watershed.
"We identify them and count them and that way we can know if we see certain diversity of bugs," said Anne Dunckel, monitoring program manager.
Streamwatch categorizes the organisms it finds by tolerance of pollution in the water.
"This is somewhat tolerant to pollution," Dunckel said, holding a dragonfly. "So a stream that has some dragonflies in it is probably doing OK, but not nearly as good or as healthy as some streams."
The group released its newest report Friday, spotlighting that 31 – or about 70 percent – of the streams failed to meet the state standard for aquatic life. But that number hasn't really changed over the last 10 years.
"Population has increased by about 15.5 percent, so despite that growth and development, our quality has remained about the same over time," said David Hannah, executive director of Streamwatch.
Streamwatch says it is important to continue assessing water quality for the overall health of our community.
"It's a great barometer of what we are doing on the land because what we do on the land impacts what we find in the water," Hannah said.
Streamwatch will now start to release health report cards every year, with the hope that awareness can eventually help improve the conditions of our watershed.