Affordable Housing Community Unveils Renovations
Posted:
Updated: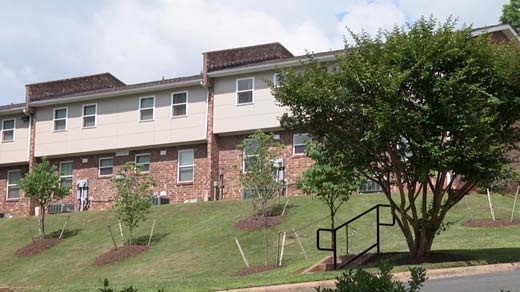 CHARLOTTESVILLE, Va. (WVIR) -
An affordable housing community in Charlottesville celebrated the end of a $15 million renovation Friday.
One by one, the residents moved temporarily while each unit was renovated. The celebration marked the completion of a community center that's transformed the neighborhood and lives of families there.
From worn living quarters to brand-new energy efficient apartments and townhomes, for 202 families, Friday's ribbon-cutting was a new beginning.
Latisha Garrant moved out of a home she shared with her grandmother and aunt and brought her four children to the Greenstone on 5th apartments. Community Housing Partners completed the $15 million interior and exterior makeover, including easy-to-spot changes like new bathrooms, kitchens, and floors. But there are also invisible changes.
"There are things behind the walls that you cannot see. We do a lot of additional added insulation in the walls and attics," said Colin Arnold, vice president of architecture with Community Housing Partners.
Garrant says her children are drawn to the new 8,000-square-foot community center. "They come here just to hang out with friends and get to know everybody," she said.
The new community center holds classes for teens and kids and has a kitchen and lots of space.
"This particular community center that was done, part of the redevelopment of the property is really the lynchpin of the property," said Orlando Artze, executive vice president and COO for Community Housing.
For Garrant, the newly restored community center gives her family a brighter future. "Being able to succeed in life, more family time," she said.
The complex also has 21 fully accessible units for residents with disabilities, and the renovations are expected to cut electric bills in half.
Though most units are already taken, a few are still available.