Woodbrook Students Receive Carson Raymond Citizenship Award
Posted:
Updated: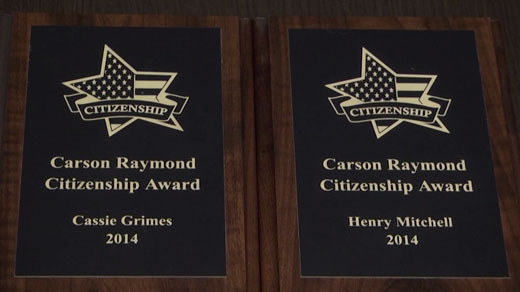 A pair of students at an Albemarle elementary school are being honored for consistent kindness to others in the classroom.
The winners received scholarships in memory of a former student who died of complications with the swine flu in 2009. Carson Raymond passed away when he was just 9 years old in the middle of his third grade year at the school.
Two young sisters, Summer and Savannah Maxwell, started the Carson Raymond Citizenship Award last year to remember their good friend - and it's just reached more students ever since.
"He was just caring, and loving and just respectful to every student in his class. He was just an amazing person," Summer said.
Summer, an Albemarle High School junior, remembers her friend Carson for all the positive qualities he had during his life. "We really just wanted to kind of honor the kids that are similar to him," she said.
Thursday night, Summer stood in front of the county's school board to talk about how she and her sister started the award. She's a lifeguard and Savannah works at ACAC, plus they both earn money babysitting, to fund the award.
Summer also presented scholarship plaques to this year's winners at Woodbrook Elementary School, Cassie Grimes and Henry Mitchell.
"It means a lot to me because it's saying that I'm a good person and I'm nice to people," Grimes said.
Mitchell said, "Kindness is what everybody has to do in order to pass through life and accomplish great things."
Woodbrook's principal, Lisa Molinaro, says the kids stay motivated to learn and achieve through these simple acts of kindness.
"Henry went every single day and worked with a kindergartner. Cassie went into the library and gave time at the beginning of the day to help out our media specialist," Molinaro said.
Maxwell says the initiative has been so rewarding because they can help others through Carson.
"To see the looks on the kids' faces when we give them their award, it's just amazing and that's what makes it all worth it," Summer said.
Citizenship awards were also given to students at Agnor-Hurt, Baker Butler, and Greer elementary schools.
The Maxwell sisters have committed to continuing these scholarships for the next five years, which is how long Carson would have been in the Albemarle school system if he were still alive.