Partnership Helps Families at UVA Children's Hospital, Ronald McDonald House
Posted:
Updated: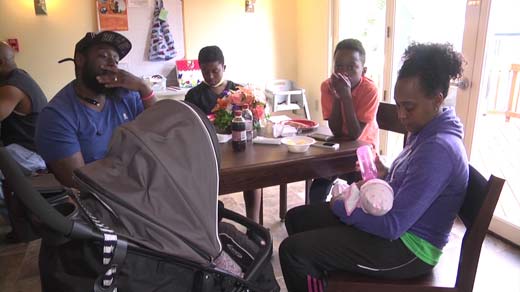 CHARLOTTESVILLE, Va. (WVIR) -
You can support the Ronald McDonald House in Charlottesville through a special Papa John's pizza order. Funds raised through the deal will help families with sick children at the University of Virginia Medical Center.
Three groups gathered at the Ronald McDonald House Tuesday to announce the new pizza partnership. The Red Shoe Cville nonprofit organized the effort to raise awareness about the charity and give back to families in need.
One of those families is the Davis family. Lavar Davis and his wife have had a busy month in Charlottesville, at one point dealing with two kids in the UVA Medical Center at the same time.
"My oldest son, Lavar Jr., ended up getting sick - following in my footsteps - he had to get a heart transplant," he said.
While Lavar Jr. was recovering in the pediatric intensive care unit, his little sister arrived earlier than planned.
"My daughter - she was born a few days after the transplant, which she was born 10 days early, so she was OK, but she had an issue with her oxygen level," Davis said.
The Davis family has been staying at Charlottesville's Ronald McDonald House through this tough time.
"It's definitely been helpful, cost-efficient anyway. I have to spend money to live, but it's been good," Davis said.
Tuesday, the family got to enjoy free pizza as part of the kickoff to a special partnership.
"This is just the perfect combination of the business community coming through for the local nonprofits," said David Jenkins, secretary of Red Shoe Cville.
The Ronald McDonald House will now get $1 of every Red Shoe Cville special ordered online through the Papa John's website.
"We're happy to support the kids and the families that utilize this house. We like to give back to the community and this is a way we've found," said Papa John's franchisee Victor Schaff.
Organizers say every dollar matters to help make life easier for the families in their home away from home.
"It's so important to our families because that's an opportunity to step back from the hospital to relax, to enjoy one another and just relax. It's just critical to what we do here," said Rita Ralston, executive director of the Ronald McDonald House.
The Red Shoe Cville special will be offered at least through this year. Papa John's is also feeding families staying at the Ronald McDonald House free once a month.