Nelson County Residents Gather to Protest Natural Gas Pipeline Proposal
Posted:
Updated: Jun 22, 2014 09:41 PM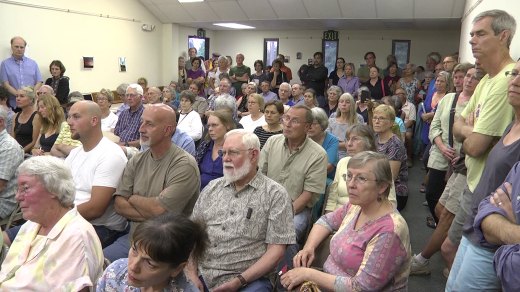 NELSON COUNTY, Va. (WVIR) -
Dominion is proposing to build a natural gas pipeline through Nelson County. Sunday, hundreds of people packed the library in Lovingston to rally against the pipeline plans.
Property owners started receiving letters just last week about Dominion's Southern Reliability Project. The pipeline would stretch hundreds of miles from West Virginia to North Carolina.
One concerned property owner organized the meeting to figure out just how many others had received the letter just like hers. Hundreds showed up, and now they're discussing what rights they have to keep this project off their land.
Kathy Verswluys, owner of Acorn Inn said, "My business is at stake, as well as my dreams, but all of us are equally at stake."
Hundreds of people who live in Nelson County came out Sunday night, seeking an explanation for a letter that appeared in their mailboxes. It says Dominion is proposing a pipeline that may be routed through their properties, including Anne Buteau's.
Anne Buteau, organizer of the event said, "We've spent 15 years building up our farm and keeping it clean so I could grow organic food for my daughter and my family and friends, and the thought of having a natural gas pipeline coming through our, between our house and the road, you know is like mind blowing."
In the letter, Dominion states the purpose for the project is to increase the availability of natural gas supplies in parts of the southeast, including Virginia.
Wild Virginia President Ernie Reed says he can't believe it. "The ones in this area seem to be destined for export, an export terminal to be sent to European markets and so the idea that this is something that might impact our ability to have a sufficient amount of natural gas is really, I think kind of disingenuous."
The pipeline would bring natural gas from West Virginia, where it's obtained through a process known as fracking.
Buteau is worried about the implications this project could have. "By saying 'oh sure you can come survey my property and lay a pipeline,' you're kind of condoning the fracking at the beginning of it," she stated.
One of the most important things people learned at Sunday's meeting is if they don't respond to the letter within 14 days of receiving it, by Virginia law that is considered consent, and crews can come survey their property. This project at the moment is still in preliminary stages, and surveying is expected to begin next month.