Orange County Mom Comes Home From Deployment and Surprises Family
Posted:
Updated: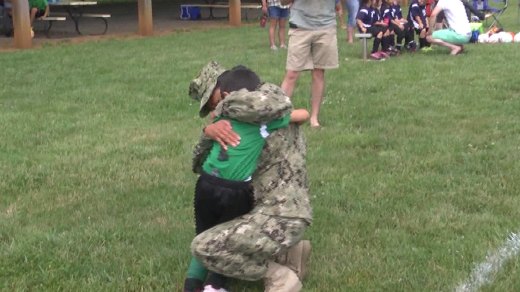 ORANGE COUNTY, Va. (WVIR) -
Deployed since last September, an Orange County mom is back with her family
She decided to make her return a surprise for the kids.
Six year old Elijah smith focused on the warm-ups for his Saturday morning soccer game in Orange County.
Little did he know, his mom was watching from her hiding spot a few hundred yards away.
She's a doctor in the navy, and just returned from an eight month deployment in Guantanamo Bay.
"It has been a trial of patience," said her husband, Brain Smith.
Aileen Smith and her husband Brian had it all planned out with Elijah's coach. She would pop out at the right moment.
As the team got its final pregame pep talk, Aileen walked across the field to a very surprised Elijah.
But that wasn't the end of the surprises; Elijah's big sister didn't know her mom was home either, and her reaction was priceless.
"I was tearing up I couldn't hold it back," said Brian.
With the family back together, the Smiths have big plans for the summer, including a vacation to California.
"Just having the extra parent around to do things and help out it'll be awesome," said Brian.
This was Aileen Smith's first deployment and she says she could get called back on duty at any time.