Business in Bloom: Springtime on the Downtown Mall
Posted:
Updated: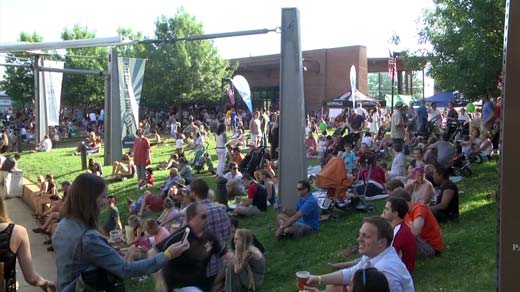 CHARLOTTESVILLE, Va. (WVIR) -
Nights like this Friday are music to the ears of shop owners along Charlottesville downtown mall. Beautiful weather coupled with a popular musical gathering can double the bottom line for some places.
Fridays after Five draws thousands of people to downtown Charlottesville, ready to have a good time and spend some money. The drinks flow heavily on a Friday at the Commonwealth restaurant's Skybar. Close to the pavilion, the popular place sees a lot of people when Fridays ends.
"It's the atmosphere, definitely the atmosphere the people like the most. Being outside and the fresh air," said Erin King, event and marketing manager at Commonwealth.
The Downtown Business Association says sales on days like these at least double for most businesses along the mall. That's true at Chaps ice cream, where people often come to beat the summer heat.
"Hundreds of people, all wanting their ice cream and milkshakes and all wanting to have a good time," said Brenda Hawkins, who works at Chaps.
Doc Johnson has only been in Charlottesville for 40 days but says he's fallen in love, especially on Fridays.
"It's not like Cali where everyone is moving fast and doing what they do. But here it's kind of laid back," Johnson said.
Retail stores even see a boom. J. Fenton Too says Fridays after Five pushes people all the way to their end of the mall as well. Desired foot traffic helps boost the bottom line, turning the sound of music into the sound of sales.
The mall this weekend will be especially busy because of reunions weekend at the University of Virginia.