Charlottesville Connections to D-Day Remembered
Posted:
Updated: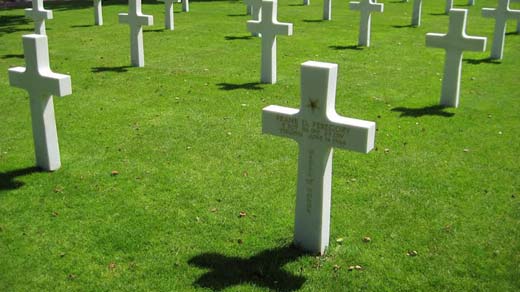 CHARLOTTESVILLE, Va. (WVIR) -
Seventy years afterward, some in central Virginia are shedding light on connections between this city and the D-Day invasion in Normandy.
University of Virginia professors offered some insight into an important tie to Charlottesville. History professor Stephen Schuker says, in the second wave of troops that arrived in Normandy after the initial invasion, some of those officers were trained to interact with the French locals. Most of those officers graduated from a school right next to UVA.
"The Judge Advocate General's Office trained all of the civil affairs officers who were supposed to go in with the troops and carry out liaison with the local French population, and they were all trained in Charlottesville," Schuker said.
He says those civil affairs officers were important in establishing communication with General Charles de Gaulle, leader of the Free French Forces.
And a family is helping ensure that a central Virginia soldier buried in Normandy isn't forgotten.
Bruce Barclay and his family traveled to Normandy a few years back and visited the American Cemetery and decided to look for the marker of Sergeant Frank Peregory from Charlottesville. Barclay says it was important for his family to find a connection to home.
"It was really my wife's and my attempt to tie things to Charlottesville. Here we are in France and I just thought, why don't we do this, find his grave marker? Here's a guy from Charlottesville who is far away from home just like we were but he's still there," Barclay said.
Five months after their trip, Barclay's son met Peregory's brother in a nursing home in Charlottesville. He showed him the pictures of his brother's grave that he was never able to see in person.