DMV To Go Coming To Downtown Charlottesville
Posted:
Updated: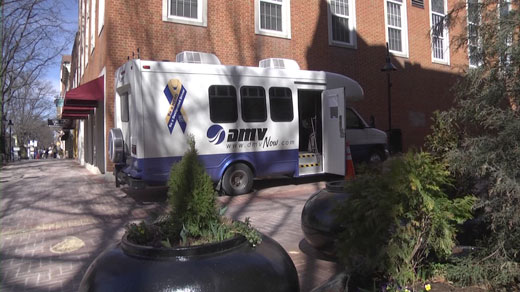 File Photo: DMV 2 Go
City of Charlottesville Press Release
:
A DMV-2-Go van will be located on the Charlottesville Downtown Mall on the 5th Street alley near CitySpace from 9 AM to 4 PM on Friday, June 13, 2014.

All of the services of a DMV office are available at the DMV-2-Go, including:* Applying for or renewing ID card - available for adults and children.

* Applying for or renewing a driver's license - take road and knowledge tests; get your picture taken.

* Reinstating driving privileges.

* Applying for a Veteran ID card.

* Getting a copy of your driving record.

* Obtaining vehicle titles, license plates, decals, transcripts.

* Ordering disabled parking placards or plates.

*Gettingg fishing and hunting licenses.

If you have recently moved, you can update your address on your DMV record. You can also update your voter registration address and organ donor status. You can request a Personal Identification Number (PIN) to set up a myDMV account - receive DMV notices via email or phone; conduct secure transactions on the DMV website.

The van is handicap accessible.