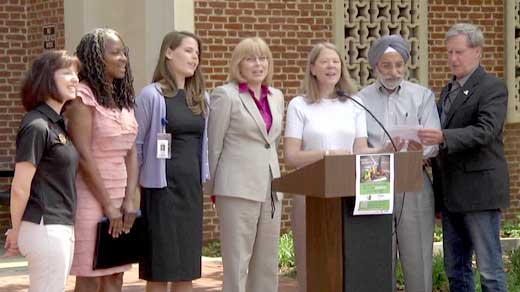 CHARLOTTESVILLE, Va (WVIR) -
The Move2Health campaign is encouraging people in central Virginia to get moving for the summer. Charlottesville City Council declared this Move2Health Monday during an official kick-off to the summer minutes challenge.
"It's a great time of year to be active. It's not quite too hot for anything, and we just want to keep the momentum going. We don't want to lose the wonderful success we had last fall and early winter. We want to show people that you can continue to do this over the summer," said Elizabeth Beasley of the Thomas Jefferson Health District.
Last fall participants logged more than 2.3 million minutes of exercise during the first Move2Health campaign. This summer's challenge features a new component to get people eating healthier, too.
"We know that eating has a lot to do with our weight. It influences everything. It influences the obesity trends we're looking at, and it also impacts our heart health, our brain health, so, it's an obvious next step." said Beasley.
?
Move2Health wants participants to share photos of their healthy snacks on social media.
Click here
to showcase your snacks.
Click here
to log exercise miles.
City of Charlottesville Press Release:
Members of City Council, together with representatives from the Thomas Jefferson Health District's Move2Health committee and partnering organizations will announce the latest community health challenge on Monday, June 2, 2014 at 10:30am in front of City Hall on the Downtown Mall (605 E. Main Street).

In an effort to capitalize on the success of last year's M2H Million Minutes Challenge, Move2Health is launching two activities in June - the Summer Minutes Challenge and #m2hSnackChat.

The Summer Minutes Challenge kicks off June 1st when the community counter will set back to zero so residents can start logging their minutes moving to health for more chances to win prizes between June and July. To promote healthy eating habits, Move2Health, in partnership with Leadership Charlottesville's Team N.O.W., will launch #m2hSnackChat, a social media campaign that encourages residents to showcase their healthy snacks. Whether residents want to log their minutes moving, snap a photo of their healthy snacks, or both,Move2Health will have something for everyone.

Council will read a proclamation introducing "Move2Health Mondays", and members of Move2Health's partnering organizations will introduce the components of the challenge and review the current state of our community's health.

"Move2Health is our community's action plan for encouraging our families, neighbors, and colleagues to move more and eat well," said Dr. Pamela Ross, Move2Health Planning Committee Chair and CEO of Holistic Medical Consultants. "We're excited about kicking off our summer campaigns and hopeful that we'll continue to see our community take positive steps towards healthy lifestyles."

Move2Health was established in response to the increasing rates of obesity in the TJHD, which includes Charlottesville City and Albemarle, Louisa, Fluvanna, Greene, and Nelson counties. Last September, over 120 organizations and 1,800 participants joined theMove2Health Challenge. Together, the community excelled beyond the campaign committee's initial goal of moving one million minutes and logged more than 2.3 million minutes of movement as a community!