UVA Employee to be Honored for 56 Years of Service
Posted:
Updated: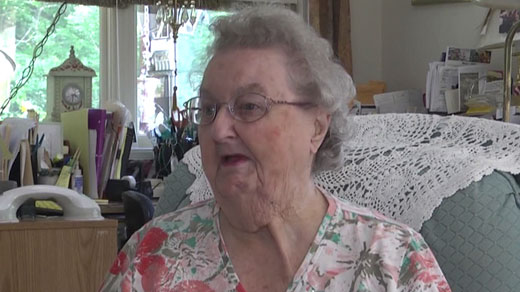 CHARLOTTESVILLE, Va. (WVIR) -
More than 1,300 University of Virginia employees, who have put in at least 10 years of service, are being honored for all their hard work this spring. At the top of that list is a 93-year-old accountant in the department of urology - still very much dedicated to her duties.
Mary Fray Hurtt first started working in the department on February 6, 1956 as a radiation therapy technician. Now, more than five decades later, she will be able to add yet another award to her collection.
"I'm just planning to work until the man upstairs says I can't work anymore," she said.
Hurtt has been committed to holding a job at UVA for more than half a century.
"I worked 30 years permanent and I've been there 26 hourly and I'm still working from home for them," she said.
Hurtt now works with bills on a computer from home, but started by administering cancer treatments at the UVA Medical Center. After the first decade of service, Hurtt took a small break before coming back to work in Charlottesville until she retired in 1986.
"I would have been there 29 and a half years, which they only count as 29. Then when I retired, about two weeks after I retired, on a Saturday morning, of all days, I got a phone call," said Hurtt.
That call is what started nearly another 30 years of service for Hurtt.
"She said I want you to come work for me Monday. I said 'Ma'am, I don't have an application in. I just retired.' She said I know, but your boss man said you can help me and I can't find anybody who can," Hurtt said.
Now Hurtt has a handful of items to commemorate the years at UVA, including a rocking chair on the 25th anniversary and an engraved silver platter on the 50th.
"I'm not a person to sit and look at full walls all day or a television, I want to be doing something and I have work right there," she said.
Hurtt says she actually started crying after her stroke in 2007 because she thought she would never be able to work again. She will be honored with 238 other employees who have worked for at least 25 years during a ceremony in two weeks.