Earlysville Veterans of Foreign Wars Hold Memorial Day Service
Posted:
Updated: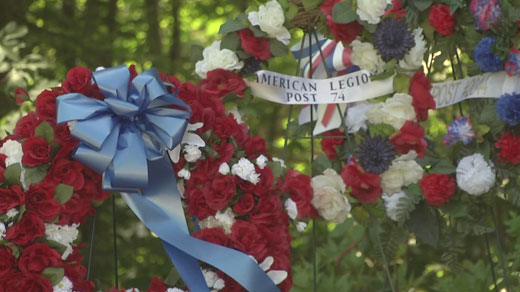 ALBEMARLE COUNTY, Va. (WVIR) -
The Earlysville Veterans of Foreign Wars (VFW) Post 2044 held their annual Memorial Day service Monday at the Earlysville Post Office.
It was a somber service Monday morning. Many came out to stop and say thank you to those who have lost their lives fighting for freedom.
Memorial Day gets very personal for a lot of people like Lynn Coleman.
"I had a second cousin that was killed in WWII. I had an uncle that was killed in the Korean conflict, he was 19 years old and my daddy was in the Navy, my brother was in the Navy and had a son in the Marines," said Coleman.
Coleman attends the VFW Post 2044 Memorial Day ceremony every year. She says her Memorial Day is about much more than barbeques and soaking up the sun.
"I could be doing that but no, I would rather be here and honor the ones that gave their lives so we can do this," said Coleman.
Monday's celebration was a community effort - and a reminder that freedom isn't free.
The ceremony was complete with the presentation of colors by Boyscout Troop 75, a wreath laying, and a three gun volley. Retired Marine Ben Shaw was the keynote speaker.
"Please don't forget while we enjoy the lazy weekends the lovely weather and the security and safety we appreciate has a price. A rather expensive price," said Shaw.
Shaw asked people to honor the more than 700,000 people who have lost their lives over the last 100 years everyday - not just once a year.
"I think the best thing we can do as Americans is live beautifully and live well to honor those who cannot," said Shaw.
Shaw says he wants the younger generation to be able to respect and honor those who are willing to put something above themselves.