VSP, Local Law Enforcement Target Dangerous Drivers on Highways
Posted:
Updated: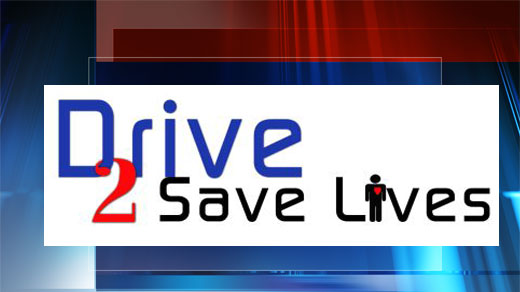 Drivers beware - police across central Virginia are on patrol Tuesday to catch dangerous drivers in the act.
The one-day "Drive to Save Lives" crackdown covers six cities and 15 counties - including Albemarle. Officers are out in unmarked cars and on motorcycles looking for speeders and distracted or impaired drivers.
"May is historically a busy travel time, a lot of people on the roads. So, it's really an important time to focus on traffic safety, and that's what this campaign does. It highlights ways we can drive safe to help prevent crashes and prevent fatalities, and it also focuses on officer safety," said Carter Johnson, spokesperson for the Albemarle County police.
Police are increasing patrols across the region on highways and secondary roads Tuesday. They hope the campaign educates drivers about ways to travel safer.

Virginia State Police Press Release
APPOMATTOX, Va. – From Charlottesville to North Carolina, state troopers, police officers and sheriff's deputies will be stepping up enforcement as part of the nationwide Drive to Save Lives ongoing traffic safety campaign.
On Tuesday, May 13, 2014, those traveling within the 15 counties and six cities encompassing the Virginia State Police Appomattox Division can expect to see a heightened presence of law enforcement on major highways and secondary routes conducting DUI checkpoints and roving patrols.
"The month of May is when we really see a significant uptick in traffic volume," said Capt. Paul Kvasnicka, Virginia State Police Appomattox Division Commander. "Unfortunately, more traffic typically equates to more traffic crashes and fatalities. With all of the festivals, graduations, and spring-related events going on this month, safeguarding our highways from reckless, drunk, distracted and drugged drivers is vitally important."
Traditionally, May leads the year with having the most fatal traffic crashes than any other month. According to the DMV Virginia Traffic Crash Facts report, May of 2012 proved to be the deadliest month for Virginia's highways with 74 fatal traffic crashes claiming 79 lives. The month also led the year having with the most traffic crashes resulting in injuries – 4,080. In 2011, it was the second deadliest month of the year with 66 fatal traffic crashes claiming 74 lives.
In an effort to reduce crashes and save more lives, state police is partnering with the Waynesboro and Lynchburg police departments, and the Augusta, Buckingham, Cumberland, Fluvanna, Greene, Halifax, Mecklenburg, and Prince Edward County sheriff's offices for the May 13 enforcement initiative. The traffic safety campaign even carries over into North Carolina with participation of the North Carolina State Highway Patrol and the Granville County, N.C., Sheriff's Office. Additional state police enforcement activity will take place in the counties of Albemarle, Amherst, Appomattox, Campbell, Charlotte, Lunenburg, and Nelson; as well as the cities of Charlottesville, Farmville, South Boston and South Hill.
"We hope this one day enforcement operation will serve as a wakeup call for motorists to drive to save lives every day by buckling up, complying with speed limits, and not driving distracted or impaired," continued Capt. Kvasnicka.
The Drive to Save Lives Campaign is a united effort by state police and highway patrol leaders nationwide to reduce highway fatalities by 15 percent in 2014. More than 33,000 deaths occur each year on our nation's roadways. Highway fatalities rank as one of the top 12 causes of death in the United States and it is the leading cause of death among teens. This is unacceptable because most crashes are preventable. To achieve a 15 percent reduction in the Commonwealth, there needs to be 111 fewer traffic deaths on Virginia's highways in 2014. As of Monday, May 12, 2014, there have been 218 reported fatal crashes in Virginia, compared to 259 fatal crashes on this same date in 2014.
Sign Up for Email Alerts

Sign up to receive news, weather, and breaking news emails from the NBC29 newsroom in your inbox daily.

* denotes required fields






Thank you for signing up! You will receive a confirmation email shortly.