UVa Set to Host Marquee Track & Field Event
Posted:
Updated: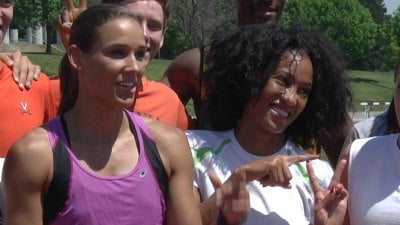 The Virginia men's and women's track and field teams will conclude their 2014 home schedule with the Virginia Challenge, held Friday and Saturday at Lannigan Field. A strong field of collegiate and professional athletes will be competing in a meet that features Olympians, All-Americans and NCAA Champions.
The meet, in its third year as the showcase event of the season at Lannigan Field, will gain in prominence with its inclusion on the American Track League schedule. The league is in its inaugural season and is designed to establish fan-friendly events throughout the country that spotlight the stars of the sport.
The American Track League portion of the meet will feature 10 events on Friday night, beginning at 8 p.m. Among the Olympians scheduled to compete are women's hurdlers Lolo Jones and Queen Harrison, men's hurdler and 2008 Olympic bronze medalist Bershawn Jackson and Virginia throws coach Martin Maric.

The event is a chance for fans to get close to the action, watching from the track infield.

Lolo Jones says, "You know at the Olympics you may never be able to get down in the infield, we're very flexible, we have a unique environment because they can hear us grunt because they are so close and see how tall we are and almost touch us, it's a different environment from a regular track meet."
Richmond, VA native Queen Harrison says, "I think that its a really great idea bring professional sports back to America. Usually when we run we have to go all the way to Europe or Asia or something. Its really great competition and so I'm just looking forward to putting on a show and having a good time."
Six current Cavaliers will have a chance to compete against elite fields in the ATL events: Jordan Lavender (Nashville, Tenn.) in the women's 200m, Filip Mihaljevic (Livno, Bosnia and Herzegovina) in the men's discus, Mike Marsella (Hope Valley, R.I.) and Anthony Kostelac (Charlottesville, Va.) in the men's 800m, Vanessa Fabrizio (Denver, Colo.) in the women's 800m and Payton Hazzard (Huntington, N.Y.) in the men's 400m.
Friday's schedule starts at 2 p.m. with the start of the men's decathlon and women's heptathlon. Field events will also begin at 2 p.m. and running events will start at 5 p.m. The American Track League events will run from 8-10 p.m. Saturday's schedule starts at 1 p.m. with the conclusion of the decathlon and heptathlon. Field and running events begin at 4 p.m. Admission to the meet is free.
The meet will feature collegiate athletes from top programs in the ACC and around the nation, including BYU, Duke, North Carolina, NC State, Notre Dame, Pittsburgh, Syracuse and the host Cavaliers.