Loaded Gun Found in NC Man's Bag at CHO
Posted:
Updated: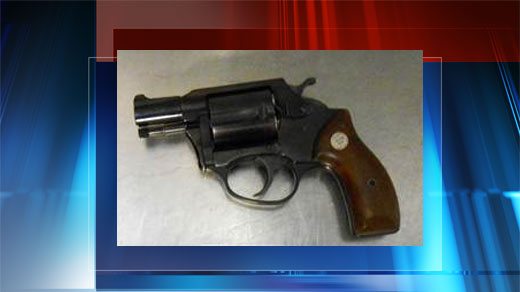 .38 caliber handgun caught by TSA officers at the security checkpoint at CHO
CHARLOTTESVILLE, Va. (AP) - A North Carolina man has been cited after a loaded gun was found in a carry-on bag at Charlottesville Albemarle Airport.
The Transportation Security Administration said Thursday that one of its officers discovered the .38-caliber handgun at an X-ray machine checkpoint Wednesday night. The gun was loaded with five rounds of ammunition.
Charlottesville police confiscated the gun and cited the man on a local weapons charge.
The federal agency said the man is a resident of Monroe, North Carolina. His name wasn't released.
Copyright 2014 The Associated Press. All rights reserved. This material may not be published, broadcast, rewritten or redistributed.
Transportation Security Administration Press Release:
A North Carolina man was stopped by Transportation Security Administration (TSA) officers at Charlottesville Albemarle Airport last night (April 30) after the TSA officer who was staffing the checkpoint X-ray machine detected the handgun in the man's carry-on bag.
TSA contacted the Charlottesville Public Safety Police, who confiscated the loaded .38 caliber handgun, which had five rounds of ammunition in it. The man, a resident of Monroe, NC, was not arrested, but was cited on a local weapons charge. Passengers who bring firearms to the checkpoint are subject to possible criminal charges from law enforcement plus civil penalties from TSA.
As a reminder, weapons—including firearms, firearm parts and ammunition—are not permitted in carry-on bags, but can be transported in checked bags if they are unloaded, properly packed and declared to the airline.
Passengers are responsible for the contents of bags they bring to the security checkpoint, and TSA's advice to passengers is to look through bags thoroughly before coming to the airport to make sure there are no illegal or prohibited items.
Passengers are permitted to travel with firearms in checked baggage if they are properly packaged and declared. Firearms must be unloaded, packed in a hard-side case, locked, and packed separately from ammunition. Firearm possession laws vary by state and locality. Travelers should familiarize themselves with state and local firearm laws for each point of travel prior to departure.
TSA has details on how to properly travel with a firearm posted on its web site here:
http://www.tsa.gov/traveler-information/firearms-and-ammunition
. Airlines may have additional requirements for traveling with firearms and ammunition. Travelers should also contact the airline regarding firearm and ammunition carriage policies.
The Transportation Security Administration (TSA) screens approximately 1.8 million passengers and their luggage every day for prohibited items, including weapons and explosives. To do this, TSA uses imaging technology to safely screen passengers for any items which may be concealed under clothing, while X-ray units screen all carry-on baggage.