VA Workforce Development Center Hosts Teen Opportunities Fair
Posted:
Updated: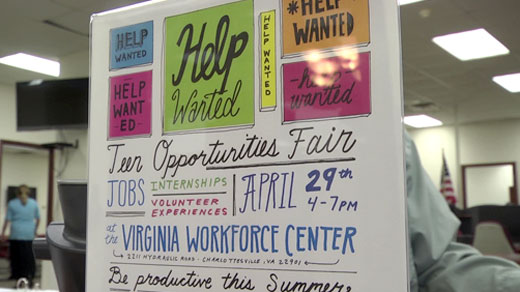 Teen Opportunities Fair
Right now dozens of area businesses are looking for teens to fill some of their job openings. The Virginia Workforce Development Center is hosting Teen Opportunities Fair Tuesday that specifically targets the youth.
Dozens of students and other young people are filing in - all in search of a job. They have the chance to talk to some employers, get feedback on their resumes, and even to land a job on the spot.
There are 39 employers from the Charlottesville area that are all looking to fill their job openings. This fair targets the younger crowd and is open to those ages 14 to 21.
All of the area high schools have been working closely with the Virginia Workforce Development Center and are providing transportation for students. Those behind the event say it's crucial for young people to get work experience early on.
"It really is valuable I think to get experience as they're young. It builds their work ethic, it helps them understand the value of being part of a professional organization, being part of a team," said Sean McCusty, with the Piedmont Workforce Network.
The employers at the job fair include small local businesses, larger ones like Target, and even jobs with city organizations, like Parks and Recreation.
The job fair at the Virginia Workforce Development Center, located at 2211 Hydraulic Road, runs until 7 p.m. Tuesday.