UVa Women's Tennis Wins First Ever ACC Championship
Posted:
Updated: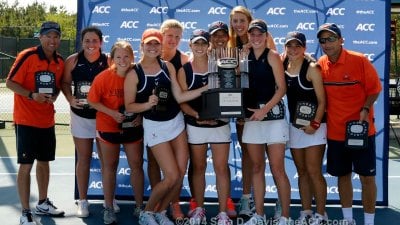 UVa sophomore Stephanie Nauta fought off a pair of match points to post a three-set win over Duke's Hanna Mar, sending No. 3 seed Virginia to a 4-2 win over No. 5 seed Duke for its first ACC Championship title Sunday (April 27) at Cary Tennis Park.
Virginia, which improved its record to a school-best 21-5, won the doubles point and received singles victories from ACC Championship Most Valuable Player Danielle Collins, Maci Epstein and Nauta in its second win over Duke this season. The match lasted nearly five hours in temperatures that soared above 85 degrees.
"Honestly, you can plan for an ACC title, but win, lose or draw these are the kinds of matches you want to play in," Virginia head coach Mark Guilbeau said. "This championship is going to lead to some great things and it's a great moment. This is great for our program and University. I'm very happy and proud of our fans, too. What an awesome group of folks."
For the third straight match, Virginia claimed the doubles point with wins at Nos. 3 and 2. Duke started doubles play with a win on court one when No. 5 Beatrice Capra and Mar beat Nauta and Li Xi (Kunming, China) 8-3. No. 13 Rachel Pierson (Princeton, N.J.) and Julia Elbaba (Oyster Bay, N.Y.) beat No. 30 Alyssa Smith and Ester Goldfeld 8-6 on court two. Epstein and Collins clinched the point by holding off No. 88 Annie Mulholland and Chalena Scholl 8-6 on court three.
Virginia will compete in its school-record sixth consecutive NCAA Tournament beginning May 9-10. The Cavaliers, who are expected to host the first and second rounds at Snyder Tennis Center, will learn their first-round opponent during the NCAA Women's Tennis Selection Show on NCAA.com on Tuesday (April 29) at 5:30 p.m.
Notes: The Cavaliers finished second in the ACC Championship in 1978 and 1989. The Cavaliers defeated then-No. 1 Duke 5-2 earlier this season for their second win against a top-ranked opponent in school history. Collins went 3-0 in doubles and 2-0 in singles en route to MVP honors.
#7 Virginia 4, #6 Duke 2
Sunday, April 27, 2014
Cary Tennis Park
Doubles
1. #5 Capra/Mar (DU) def. Nauta/Xi (UVa) 8-3
2. #13 Elbaba/Pierson (UVa) def. #30 Goldfeld/Smith (DU) 8-6
3. Collins/Epstein (UVa) vs. #88 Scholl/Mulholland (DU) 8-6
Order of Finish: 1,2,3*
Singles
1. #4 Julia Elbaba (UVa) vs. #7 Beatrice Capra (DU) 5-7, 6-2, 4-4, DNF
2. #36 Danielle Collins (UVa) def. #26 Ester Goldfeld (DU) 6-3, 6-1
3. #62 Stephanie Nauta (UVa) def. #35 Hanna Mar (DU) 6-3, 4-6, 7-6(3)
4. Chalena Scholl (DU) def. #69 Rachel Pierson (UVa) 4-6, 6-0, 6-2
5. Maci Epstein (UVa) def. #113 Alyssa Smith (DU) 6-7 (6), 6-4, 6-1
6. Rachel Kahan (DU) def. Caryssa Peretz (UVa) 7-5, 6-3
Order of Finish: 2,6,4,5,3*