Governor McAuliffe Touts First 100 Days in Office
Posted:
Updated: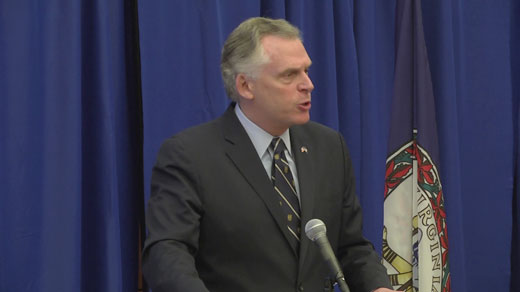 File Photo: Governor Terry McAuliffe
Governor Terry McAuliffe is marking a milestone this week of more than 100 days on the job - but as lawmakers return to Richmond Wednesday, many are concerned with what's left unfinished as debate over the state budget drags on.
One hundred and one days in, McAuliffe is still sticking with the slogan he ran on during last year's campaign - "putting jobs first." He says his first priority is still growing Virginia's economy.
In his first 100 days in office, McAuliffe says he has helped create close to 5,000 new jobs, including more than 300 positions announced last month in the town of Gordonsville.
But it's another campaign goal that has lawmakers hung up: whether to expand Medicaid health coverage under the Affordable Care Act.
"It is not only morally the right thing to do, it is financially the right thing to do," said McAuliffe.
Of course, not everyone agrees.
Lawmakers will take up that issue, and others, when they return to the capitol this week for the reconvened session. That's when they will have a chance to weigh in on some of Governor McAuliffe's proposed changes to legislation approved last month. That, coupled with a continued budget fight, could make his next 100 days even more interesting than the last.

Office of Governor Terry McAuliffe Press Release

Governor McAuliffe today marked his administration's hundredth day and launched 100Days.Virginia.gov, a website highlighting key accomplishments his administration has made so far in critical areas such as economic development, transportation, and education.

"Since my first day in office, I, along with members of my administration, have worked hard to find mainstream, common-sense solutions to problems and create a stronger and more economically competitive Commonwealth," stated Governor McAuliffe. "We have already made significant progress in investing our transportation dollars wisely, creating more jobs in every region of the Commonwealth, and preparing our workforce for a 21st Century economy. I am proud of the accomplishments my administration has made, and I am confident that we will continue to put people above politics to build a stronger economic foundation for the next generation of Virginians."

For an overview on the progress made during the McAuliffe Administration's first 100 days in office, visit 100Days.Virginia.gov or Governor McAuliffe's 100 Days Report.