AG Herring Speaks to UVA Law Students about Time in Office Thus Far
Posted:
Updated: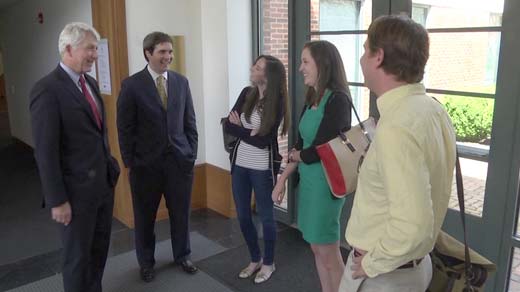 Mark Herring talks with UVA law students
It's been a busy first 100 days for Virginia's new Attorney General Mark Herring – and he says his fight to change the state's stance on gay marriage tops his list of accomplishments during that time.
Friday, Herring visited University of Virginia law students to talk about some of the issues he's faced in office thus far. He says his biggest priority in office has been to make sure Virginia is on the right side of the law, and he feels he has done that so far.
He says Friday's visit is about familiarizing students with the priorities of his office - like safeguarding the public interest and reviewing the actions of state commissions. He hopes students walk away with a better understanding of the issues and decisions he is faced with every day.
"I'd like them to know that, as an attorney general, I'm there to protect the public interest, to safeguard the rights of all Virginians, to make sure that our state agencies, boards, and commissions are on the right side of the law, and that we have the right set of priorities," said Herring.
Herring says the next issue he hopes to tackle is making local law enforcement around the state more efficient and effective.
Herring says despite a very high-profile beginning to his time in office, he is enjoying the job and hopes to work toward bringing the state's priorities in-line with the law.