CHS String Ensemble Plays Concert on Downtown Mall
Posted:
Updated: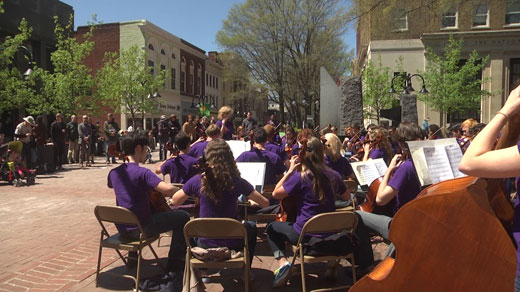 CHARLOTTESVILLE, Va. (WVIR) -
The Charlottesville High School string ensemble played a three-song concert for people on the downtown mall Wednesday afternoon.
The group is trying to raise money for its trip to France this summer to do a musical tour.
The Bama Works Fund of the Dave Matthews Band will match the group's donations for the trip this month, dollar for dollar up to a total of $22,000.
"As a class, it's a lot of people but I think we all just get along really well and in the classroom it's a really positive environment and Ms. Thomas is just always really positive and we move pretty quickly through things," said Lana Womack, a member of the ensemble.
The string ensemble will be excited to take the stage in Paris. Its members will spend the next couple of months fine-tuning their skills.

You can donate to the CHS string ensemble's trip here, or you can mail a check to:

Charlottesville High School Orchestra
Attn: Laura M. Thomas
1400 Melbourne Road
Charlottesville, VA
22901