Sen. Tim Kaine Speaks at Sabato's Politics Class at UVA
Posted:
Updated: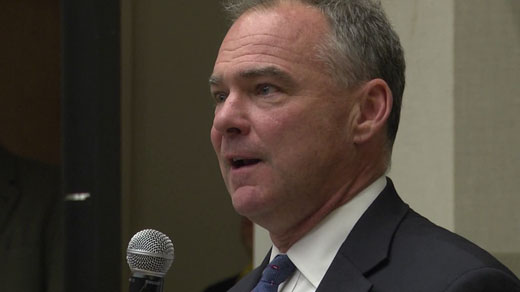 Kaine speaks to UVA class
Senator Tim Kaine was making the rounds around Charlottesville Monday, and made a stop in Larry Sabato's Introduction to Politics class Monday afternoon.
Senator Kaine spoke about a number of topics, but he also spoke about a piece of legislation he introduced at the beginning of this year.
Kaine says the War Powers of Resolution Act of 2014 is something that the country needs to determine when to send men and women to war. He says the president and Congress need to work together before that decision is made.
"If we put people in war without casting a vote, having a debate that educates the American public and then casting a vote saying yea this information is important...what an immoral thing to do to make people risk their lives without doing the political work necessary to forge a consensus that this mission is important," said Kaine.
Senator Kaine worked very closely with Senator John McCain on this issue.
Kaine took a number of questions from the audience ranging from the death penalty to the evolution of his stance on gay rights.
Senator Kaine was the last speaker in Larry Sabato's Introduction to Politics class. After teaching the class for 35 years, Sabato plans to retire at the end of this semester.