Annual Community Safety Awareness Event Held in Waynesboro
Posted:
Updated: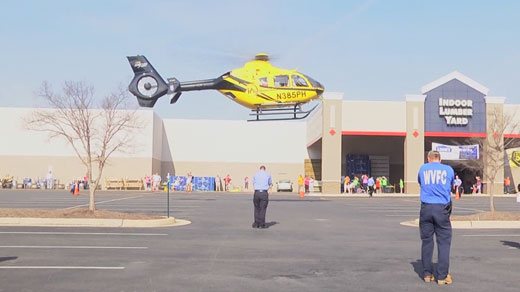 Hundreds of people in Waynesboro came out Saturday to see some life-saving skills put to the test at the annual community safety awareness event. It featured demonstrations by the fire department, police, and emergency medical crews.

The safety awareness day kicked off with the landing of an EMS helicopter, which kids then got to sit in and learn about. Throughout the day, people of all ages got to hear from emergency responders about what they do on a daily basis, and got a first-hand look at their equipment.

Kids got to sit in fire trucks and police cars, and even play with rescue dogs looking for a home. Volunteers from the Waynesboro Lions Club offered hearing and eyesight tests.

Waynesboro Police Sgt. Brian Edwards says the event is a good opportunity for law enforcement to meet the people they protect.

"In these situations where we can put all of our public safety equipment on display and talk to citizens, give them an opportunity to look inside, talk with an officer. We're also set up inside to give things, in giving things away. It's just a really nice way to break the ice with our citizens," said Edwards.

This is the second year Lowes has sponsored the community event. Lowe's employees say they're glad to provide an opportunity to get the community excited about the positive things their city's emergency crews do every day.