Wife Marks 3 Years Since Fluvanna Man's Disappearance
Posted:
Updated: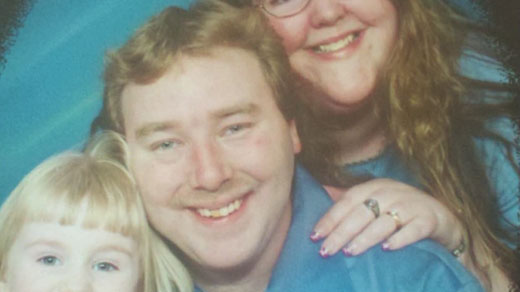 Robert Hourihan with his family
A Fluvanna County man's family is still desperate for answers years after he seemingly vanished. Robert Hourihan was last seen exactly three years ago Tuesday on his way to work.
Even after three years, police have no new leads in this case. But his wife Tara Hourihan is still holding on, hoping that someone somewhere will come forward to offer some answers and put an end to her nightmare.
"I love you, honey." Those are the last words Robert Hourihan said to his wife before he vanished. April 8, 2011 was supposed to be just another day.
"He got up, I got up got his coffee ready, got his lunch ready. Regular day. He was in his work clothes, walked out the door," Tara said.
But Tara never saw her husband again. Three years later a faded missing poster still hangs on her parents' front door and she is still desperate for someone to come forward.
"It's like a huge cloud and it follows me everywhere," she said. "Every thought, every minute, every dream, everything. And I'm struggling."
And she says she won't give up until she finds some answers.
"Some people say with time things get better. It's not getting any better, it's getting harder. We need to know what happened. We need to know where he is," she said.
But Tara Hourihan is not the only one wondering what happened to her husband of 14 years.
"Unfortunately there's still a lot more questions than answers," said Lt. David Wells with the Fluvanna County Sheriff's Office.
Robert Hourihan was last seen at E.W. Thomas grocery store in Palmyra. Two months later, his car was found in La Plata, Maryland, but that's where the trail went cold. Since then the Fluvanna County Sheriff's Office has been looking for any clue to his whereabouts.
"Something that might seem insignificant to one person but if we can link it together it's like putting together a giant jigsaw puzzle, sometimes there's that one key piece you need to make that picture become clear," Wells said.
Although Tara remains hopeful, after three long years reality is also starting to set in.
"Because it's been so long my fear is that he's not coming back to us the way we want him to," she said.
At the least, Tara would like closure.
"What I wouldn't do just to be able to have a funeral. But we can't have anything," she said.
There is still a $5,000 reward being offered for any information leading to Hourihan's whereabouts. Anyone with any information should call the Fluvanna County Sheriff's Office at 434-589-8211.