Students from UVA Darden School Refurbish Older Homes
Posted:
Updated: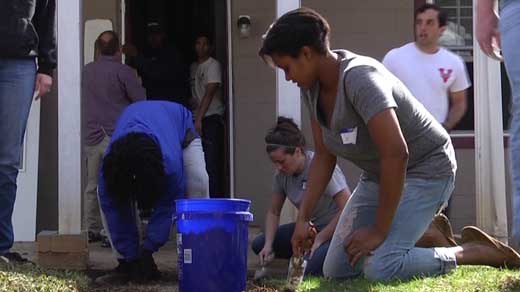 CHARLOTTESVILLE, Va. (WVIR) -
A dozen older homes around Charlottesville are freshly refurbished thanks to students from the University of Virginia's Darden School.
More than 300 volunteers teamed up with the Building Goodness Foundation to complete Saturday's renovation projects. This annual partnership for the Building Goodness in April event has helped about 70 families since it started seven years ago.
Ralph Brown cleans up around his Charlottesville house as crews work to restore it inside and out.
"It's the first time that I've had a back door in 50 years, so I'll be able to come out and sit on the deck," he said.
The disabled U.S. Army veteran says the house has lots of personal memories and an important place in history.
"This is probably one of the few African-American built neighborhoods that still exists because my dad built every house in the neighborhood," Brown said.
Volunteers with Building Goodness in April helped paint rooms, replace doors, and cut down branches. 20 Darden students have all served in the military, just like Brown.
"This is just a really good opportunity for us to hang out as a group of veterans and help a fellow veteran and Reverend Ralph Brown, so we're happy to partner with him," said co-house captain Sturges Lochridge.
When all renovations are complete, Brown's home will have a new deck and a fully restored kitchen.
"Many of our local residents have lived in these houses for generations, so this is an effort for neighbors to help neighbors stay in their houses and make major repairs and do a lot of spring cleaning," said BGF executive director Kelly Eplee.
Brown is grateful for the work and its role in keeping his father's legacy alive for generations to come.
"This house will last another 50 years so my children will get to see what my dad was able to contribute to the Charlottesville community," he said.
Volunteers with the Cathcart Group were also on site doing repairs on Brown's house. They were able to get many of the materials donated from suppliers through Charlottesville.