Lawmakers Realize Virginia Girl's Dying Wish
Posted:
Updated: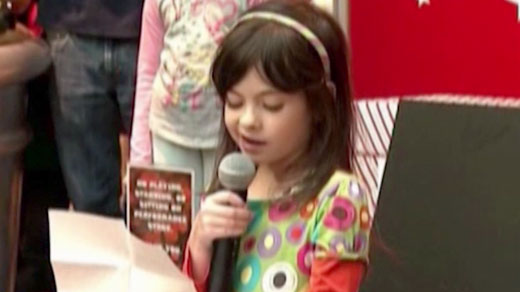 Gabriella Miller
At a time of fierce political differences on Capitol Hill, it's rare to find Republicans and Democrats working together. But against the odds, the message of a 10-year-old Virginia girl is cutting through the gridlock, as her dying wish becomes a reality.
That 10-year-old was Gabriella Miller, who suffered from an inoperable brain tumor and passed away less than six months ago, at her home in Loudoun County. Today, she's not remembered for why she died, but instead what she helped accomplish.
It was Christmastime in 2012, a month after then-9-year-old Miller was diagnosed, that her work began. She collected tens of thousands of letters to Santa Claus and Macy's donated $1 for each one to the Make-A-Wish Foundation.
Miller ended up raising $250,000, but she wasn't finished. In 2013, she began lobbying Congress, asking for more money for pediatric medical research.
"I just have to say it...talk is bull****," Miller once said in a 2013 interview. "We need actions."
Her words got the attention of Virginia Senator Tim Kaine, and House Majority Leader Eric Cantor, who worked across the aisle to push a bill through a divided Congress.
Gabriella Miller never saw the result. She passed away in October at age 10. But her legacy lives on in the form of a 10-year pediatric research initiative. The "Gabriella Miller Kids First Research Act," signed Thursday afternoon by President Obama, will shift $126 million over the next decade from the Presidential Election Campaign Fund into pediatric medical research at the National Institutes of Health.
Congressman Cantor said in February he and his House colleagues will build on this bill, putting forth more legislation to eliminate wasteful programs and reallocate funding toward lifesaving research at the NIH.