UPDATE: Previously Missing Man Turns Himself In to Waynesboro Police
Posted:
Updated: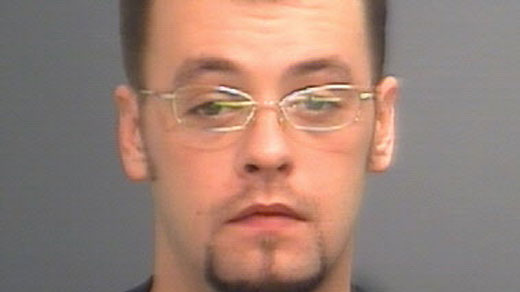 Christopher Jay Dovel
City of Waynesboro Police Department Press Release 04/08/2014:
Dovel came to the PD today to surrender himself on his outstanding charges and to dispel the idea that he was suicidal. He had been staying at a homeless refuge in Petersburg, Virginia since mid-February. Dovel is being held without bond at Middle River Regional Jail.
Previous Press Release 04/03/2014:
The Waynesboro Police Department is requesting assistance in attempting to locate a missing, possibly suicidal man who was last seen in mid-February when he fled from city police (see previous release below).

On April 2, a family member of Christopher Jay Dovel, 29 years old of Stuarts Draft, filed a missing person's report with the Police Department. She indicated that neither she nor anyone else in Dovel's family has had any contact with him since February 12.
On that day Dovel came by her house intoxicated with injuries to his wrists that could have come from a suicide attempt. He fled the residence when police officers arrived. The vehicle he was driving that day was abandoned the following day in the Harrisonburg area.
Dovel is a Caucasian male, 6'1", and 165 pounds with brown hair, brown eyes and some facial hair. He occasionally wears eyeglasses.

He has been entered into the NCIC, or National Crime Information Center, database as a "missing-endangered adult." Since February 12, he has been listed as only a "wanted person" in NCIC.
Anyone with information is asked to call the Waynesboro Police Department at (540) 942-6675 or if he is seen, please call 911.
Previous Release 03/07/2014:
The Waynesboro Police Department is requesting assistance in locating a Stuarts Draft man who fled police after a domestic disturbance last month.

On February 12 at approximately 9:30 AM, officers responded to a residence in the 300 block of Wayneridge Road because the female resident reported that her estranged husband was trying to get into the home. When officers arrived, Christopher Jay Dovel, 29 years old, was driving away in an Acura Integra.

An officer attempted to conduct a traffic stop on his vehicle. Dovel initially stopped but then drove off as the officer was trying to approach him.

In the nearly 10 minute pursuit that followed, Dovel drove through other neighborhoods at nearly 20 mph over the speed limit, disregarded red lights and highway signs and drove through the Waynesboro Commons shopping center before he got on Interstate 64 at Rosser Avenue. The officers ended the pursuit at that point.
Dovel is wanted on one count of felony eluding and a circuit court capias for probation violations.