ASG Adds Primary Care Services
Posted:
Updated: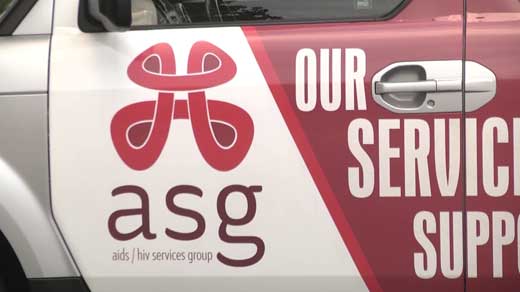 AIDS/HIV Services Group Thrive Center
CHARLOTTESVILLE, Va. (WVIR) -
A new healthcare clinic in downtown Charlottesville is now open. Thrive is a program of Charlottesville's AIDS/HIV Services Center (ASG).

Peter DeMartino, ASG's CEO, said this has been years in the making, and he's happy to finally add primary care to the list of services they provide.

"I think having been an AIDS organization for 30 years we recognize that staying healthy is so much more than just your body. It's about mind, it's your soul," he said. "We're taking advantage of the Affordable Care Act and looking to the hundreds if not thousands of local people who are new to having health insurance, and for the first time in their lives they have choice."
ASG already offers services like therapy, housing assistance, tests, and screenings. Now they'll also have a full-time nurse practitioner.
"So it's not just housing, not just transportation, it's not just HIV testing, but it's every test you can possibly think of," DeMartino said.
Now once you walk through the doors of ASG's building on 10th Street in downtown Charlottesville, you'll have full access to primary health care, even if you don't have insurance
"We want anyone to walk through this door knowing that we're the welcoming place," said Elke Zschaebitz, the nurse practitioner at ASG. "Anyone can walk through the door who wants to see us and who would like us," she said.
Thrive is the newest health care clinic in Charlottesville, and it caters to most people 16 and older.
"We give very personalized care here focused on wellness and keeping everyone healthy," Zschaebitz said.
"We always talk about a continuum of care, taking care of people not only for their healthcare needs, but for their social needs, their spiritual needs, and now we are adding medical," added DeMartino.
DeMartino said by offering so many services now, he hopes to reduce the stigma some people may feel when coming in.
"Now it's not just people with HIV or at risk of HIV walking through these doors," he said. "No one knows who is walking through those doors and what they're waiting for, so we know that we can provide high quality services and a really personal experience."
"A lot of the tactics that people living with HIV use to live a healthy life for a healthy life span also apply to diabetes, and osteoporosis, and coronary disease, so we have those skills and we're looking forward to sharing them," he added.
"This is a welcoming place for anybody to come and to walk away saying, 'I really liked being there; I really want to take better care of myself,'" said Zschaebitz.
Even though you don't have to have insurance to get primary care at Thrive, people are working on getting credentials for all types of insurance including Medicare and Medicaid. There are certified application counselors that can help people enroll in Obamacare.
Monday is the deadline to at least start applying for coverage through Obamacare.
For more information, click here.
Sign Up for Email Alerts

Sign up to receive news, weather, and breaking news emails from the NBC29 newsroom in your inbox daily.

* denotes required fields






Thank you for signing up! You will receive a confirmation email shortly.