Malaysia Airlines Flight 370: Charlottesville Man Explains Recovery Process
Posted:
Updated: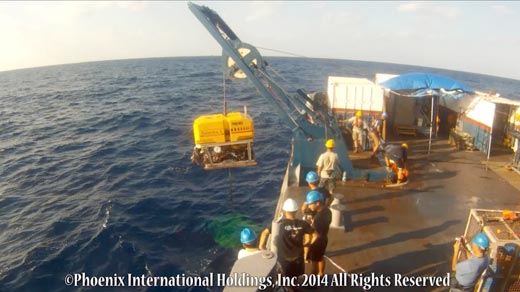 File Photo: Phoenix International: underwater search and salvage.
CHARLOTTESVILLE, Va. (WVIR) -
The story making headlines around the world Monday is a major breakthrough regarding the missing Malaysia Airlines jet. Malaysia's prime minister says new satellite data analysis shows it plunged into a remote corner of the Indian Ocean after disappearing shortly after takeoff on March 8.

A Charlottesville man may play a big role in the plane's eventual recovery, and today, he sat down with NBC29 to talk about the process of finding lost flights, and his experience.

Paul Nelson is a project manager for Phoenix International, a company that specializes in underwater search and salvage. The Maryland-based group is contracted by the U.S. Navy to conduct recovery operations.

Nelson says there's still work to be done before recovery is an option. "Right now all they have is satellite imagery of something floating in the water," he stated.

But once a connection is confirmed, investigators will have a good idea where missing Malaysia Airlines flight 370 is submerged. A company like Phoenix International would then use a piece of equipment called a 'towed pinger locater' to search for the plane's black boxes.

"It's like if you lose your cell phone, you could call it and based on the ringing noise, you could narrow your search down to it's here or it's there," Nelson explained.

Nelson says a pinger only lasts around 30 days, so crews also use torpedo-shaped automated underwater vehicles (AUV). "Our AUV can run for 20 hours at a time. It's preprogrammed on the surface, you push in a grid a search pattern, and it spirals down to the bottom, flattens out and then runs a pattern back and forth like mowing your lawn so you don't miss anything."

Finally, a remotely operated vehicle (ROV) would then be sent down for recovery. "It's connected to a cable up to the ship. The operators sit in these control vans and they operate almost like video games where they control this ROV and it will go down and it do a very methodical search and recover those black boxes," he stated.

Nelson worked to recover the black boxes of Air France flight 447 two years after that plane crashed in June 2009. "It was really touching the family members of the Air France victims reached out to us during the search, and thanked us for our help in putting this period of their life to a closure," he said.

Nelson confirmed the Navy has sent assets over to Australia to pre-stage in case the debris found is related to the plane. He stated, "These are real people involved. This is potentially to be a disaster. There's families and there's victims so I want everyone to remember that this is a very serious issue and a lot of people are involved and a lot of people are affected."