Cville Mom Posts Photos of Comments Directed at Adopted Daughters
Posted:
Updated: Mar 02, 2014 07:17 PM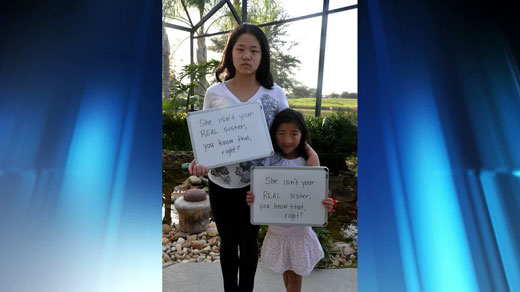 CHARLOTTESVILLE, Va. (WVIR) -
A photo series started by a Charlottesville mother is getting national attention and a controversial response online.
The 37 photos on Facebook feature her adopted daughters holding signs of hurtful and offensive comments the family has received over time.
Even though some critics accuse her of exploiting her children with these photos, this mom hopes it spotlights the power behind simple words.
Kim Kelley-Wagner snaps photos of her two daughters, 13-year-old Liliana and 7-year-old Meika.
"Adoption just spoke to me," she said. "It made sense. I wanted children, children needed a parent."
The single mom adopted both girls from China when they were just babies.
"I adopted Lillian in 2001 after all the paperwork and everything. It's a long process – when she was 10 months old," Kelley-Wagner said.

She was aware of the comments she'd get when the girls were young, but it started making a difference as the sisters got older.
"Here's this red-haired white woman carrying around this tiny little Asian baby. It drew a lot of attention understandably and people were curious understandably," Kelley-Wagner said. "When they were old enough to understand the comments, that's when it became a concern and that's when it became an annoyance."
Kelley-Wagner sat down with her daughters over their winter break from school to start the Facebook photo series called "Things Said to or About My Adopted Daughters..."
"Now that they're older, I think the one that they get asked the most often now is 'Are you real sisters?'" she said. "The ones that offend me were questions about finances and how much she cost and then phrasing it that way: 'How much did she cost?'"
The album is getting thousands of responses from people all over the country.
"Some people have said that I'm shaming them by having them hold up things that people have said to them," Kelley-Wagner said. "They don't see that. I ask them, 'Am I shaming you?' And they're like 'no'. Well who is the one that's being shamed? The people who said those things."
She says the majority of comments have been positive, but there are several that stand out.
"The one that made the most impact on me was one I read last night from another adoptee," said Kelley-Wagner. "A woman who was 39 years old and she said she got these comments all through her childhood and that her parents never did anything, that they never said anything. They put their heads down. She said, 'My whole life I thought they believed the same things that were being said about me and that they were ashamed of me.'"
Kelley-Wagner hopes the project makes people think twice about the impact of their words.
"I'm hoping that, if anything, it empowers other adopted children, other adopted families that you don't have to be quiet," she said. "Sometimes you don't have to be polite. You know there are times to just turn around and walk away."
Kelley-Wagner stresses they don't get these negative comments daily and only one of the remarks posted came from someone in Charlottesville.
"It is not a regional thing. There's ignorance everywhere. It knows no borders. There's bad manners everywhere," she said. "How I form my family is ultimately no one's business. How anyone forms their family is nobody else's business. There are just different ways to do it."
Sign Up for Email Alerts

Sign up to receive news, weather, and breaking news emails from the NBC29 newsroom in your inbox daily.

* denotes required fields






Thank you for signing up! You will receive a confirmation email shortly.