Nuns Give NBC29 Inside Look at Cheese-Making Facility
Posted:
Updated: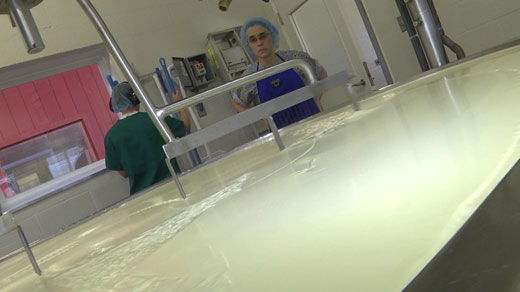 ALBEMARLE COUNTY, Va. (WVIR) -
Some Albemarle County nuns are making high-quality cheese from fresh pasteurized cow's milk. Due to sanitation concerns, they usually don't let anyone inside their facility to see how it's done. But Our Lady of the Angels Monastery in Crozet made a special exception for NBC29.
More than 20 years ago, a group of nuns took over the cheese-making facility, and started making Gouda to support themselves.
"My plan wasn't to make cheese. My plan was to give my life to God, but the cheese was in the part," said Sister Maria, one of the cheese-makers. "You see the quality of the milk? It's amazing."
For a while the cheese was made the old fashioned way, by hand.
"I actually used to kneel on the cheese to press it," said Carol McIntosh, who is not a nun but works at monastery. "It was very archaic."
Now the sisters have more modern equipment.
"We have higher yields, it's much easier, there's a lot less carpal tunnel and other things, and it's much more efficient," McIntosh said.
It's a very detailed process.
Fresh milk is delivered each week. First it's pasteurized, then cooked in the cook vat after rennet and the Gouda taste are added. Then, the nuns use a harp to cut the milk and turn it into curds. They keep the curds constantly moving to get them to clump.
When the temperature is about 98 degrees the mixture is transferred by pump into the pre-press vat. A lid comes down and presses it and then 30 or 40 minutes later, when it's ready to be cut, there's a mechanical arm that cuts the cheese into the two pound pieces.
But the process is not over. The pieces are put into bowls called hoops, and then loaded into the vertical presses. They are taken out of the bowls by hand and turned over and then put back in for a second press.
Once the two pound pieces of cheese are taken out of the press they are loaded in carts and put into the brine room where the cheese gets a bath of salt water. They stay in there overnight. The next day the nuns take the cheese out of the brine and they poly them, meaning they cover them in an industrial plastic that keeps the red wax from weeping onto the cheese.
The cheese then spends three months in a cooler before they are ready to be shipped.
"We never know how much cheese we're going to get. It depends on the milk. It depends on how happy the cows are," said Sister Maria. "In the summer we have less, in the winter we have more because the cows are also miserable like us."
McIntosh said last week was a record batch with 329 two-pound cheeses from the 7,200 pounds of milk the nuns received. "There was a lot of butter content in that batch," she said.
The nuns said it's a peaceful process. "You know if you follow the steps and keep on praying it will work," Sister Maria said. "But you don't know how many cheeses you'll get because it's nature working."
"We do pray and work at the same time and that's our life," Sister Maria continued. "I do like it. It's a really nice job and I do like how we do it together in community. This is like a symbol of what we share with the people, this good cheese that has our life of prayer and work in here,"
Even though she's not a nun, McIntosh said she loves working alongside this unique group of women.
"I love women but I hate going out to lunch so it's so nice to come over and be with the girls and kind of quiet and work hard and have a really significant product at the end of the day it's a very satisfying experience," she said.
Our Lady of the Angels does not take online orders, but you can buy the cheese from them directly in Crozet, or by mailing in an order. Click here for more information.
Sign Up for Email Alerts

Sign up to receive news, weather, and breaking news emails from the NBC29 newsroom in your inbox daily.

* denotes required fields






Thank you for signing up! You will receive a confirmation email shortly.